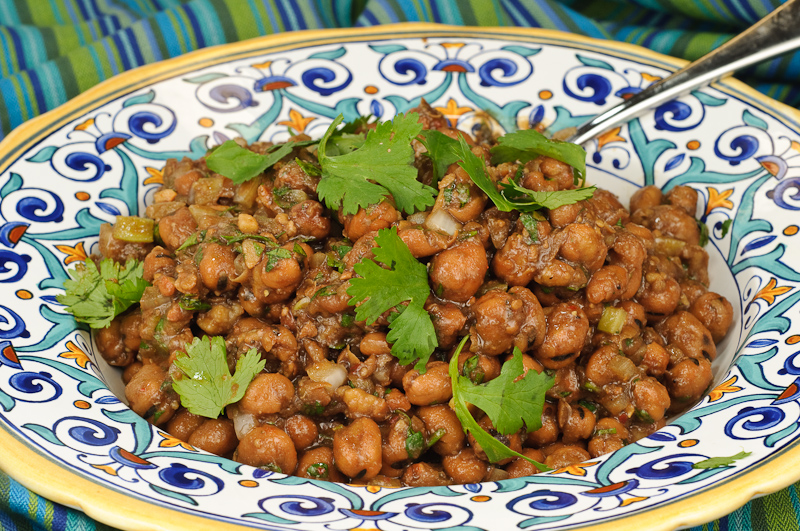 Warm Fava Bean Salad with Tamarind Dressing
Dried fava beans (aka ful or fool) come in several shapes and sizes; the kind you want for this salad are small and round, about the size of a chickpea, not lima bean shaped. The most typical preparation for them is ful mudammas. For today's dish, I used them in a warm salad spiked with tamarind and Aleppo peper, two flavors typical of Syrian cuisine.
Tamarind is best known for its use in Southeast Asian dishes, like Indian rasam and sambar. It lends its tart, fruity flavor to some versions of Pad Thai as well. Apparently it is also popular in Syria, where it was no doubt brought via the ancient trade routes.
Tamarind is the pulp from a seed-pod that grows on a tropical tree of the same name. You can buy the whole pods, or just the pulp and seeds compressed into a brick, or a fully prepared concentrate. The first two forms probably taste a little better but they require a lot of work, hydrating the pulp with boiling water and then forcing it through a sieve to remove strings and seeds. Personally, I use the Tamicon brand
of concentrate. Call me lazy, but it means a salad like this can come together in ten minutes.
I served this with a meal of mujadara, roasted cauliflower, tahineh sauce (prepared tahini with garlic and olive oil), and pita bread. 
Warm Fava Bean (Ful) Salad with Tamarind Dressing
Serves 6 as a side dish
Vegetarian, vegan, and gluten-free
2 15 oz. cans cooked fava beans (ful), drained and rinsed – Sahara is a good brand
2 stalks celery, finely diced
1/2 small white onion, finely diced
1 tablespoon Tamicon brand tamarind concentrate
1 tablespoon boiling water
1/4 cup olive oil
1 teaspoon salt
1/2 teaspoon or more Aleppo pepper, or substitute 1/4 teaspoon cayenne
1 cup loosely packed parsley leaves, chopped but reserve a few for garnish
Combine the beans, celery and onion and warm gently in a saucepan or the microwave.
Combine the tamarind paste and boiling water and stir until liquified. Drizzle in the olive oil, whisking continuously. Whisk in the salt and aleppo pepper. Taste and adjust the seasoning. It should be rather tart.
Mix the dressing and the minced parsley into the beans. Let sit five minutes and then give a final taste, adding more salt or Aleppo pepper as needed.
Garnish with the reserved parsley leaves and serve.