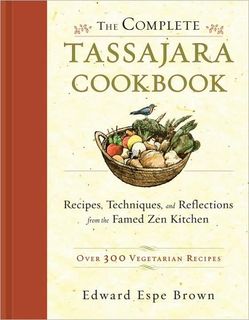 Twenty-five years ago, when I was first learning to cook, a dear friend gave me the Tassajara Bread Book and the Tassajara Cookbook. I read them and used them until they fell completely apart, and in the process learned a basic sense of comfort with baking, knife skills and improvisational cooking that has never left me.
Just a few years later, having had a great experience living in a cooperative house, I took a year off from school and landed at the Green Gulch Farm in Marin County. (Yes, I was a big hippie, you wanna make something of it?)
Green Gulch is part of the San Francisco Zen Center and a sister facility to Tassajara. Edward Espe Brown
, a zen monk and the author of those books, would make an occasional appearance at Green Gulch and leave behind a kitchen smelling so good from his breads that it would be hard to concentrate on meditation. Oh wait, that was always hard.
Anyway, I was pretty excited to hear that Brown has written a new book, The Complete Tassajara Cookbook
. Shambhala Press is also reissuing the The Tassajara Bread Book
. They've given me a copy of each to give away to my fearless readers.
As long as I'm going to do a contest, I want to have some fun with it! If you'd like to win one of the books, add a comment below and tell us, in just a few sentences, the worst plate of food you've ever made. Next Monday (10/12/2009( I'll read them all, pick the worst two and give away the cookbooks.
I guess it is only fair if I tell my own. In my first few months of cooking, my Dad, brother and I were staying at a cabin. I made them a pot of wheat berries, peas, and plums. Cooked plums, yes. The wheat berries never softened. No seasoning. Chewy, inedible wheat berries, peas, and plums. Shoot me now.
So lay it on me.
Update, 10/12/2009 – We have winners!
The contest is over, and we had a bunch of hilarious and frightening entries. I highly recommend reading through the comments below if you could use a laugh. It was hard to pick the winners, but I settled on the ones from Tofu Mom and Virginia. Coincidentally, they both involved artificial lemonade where it never, ever belonged! Thanks to everyone who entered.