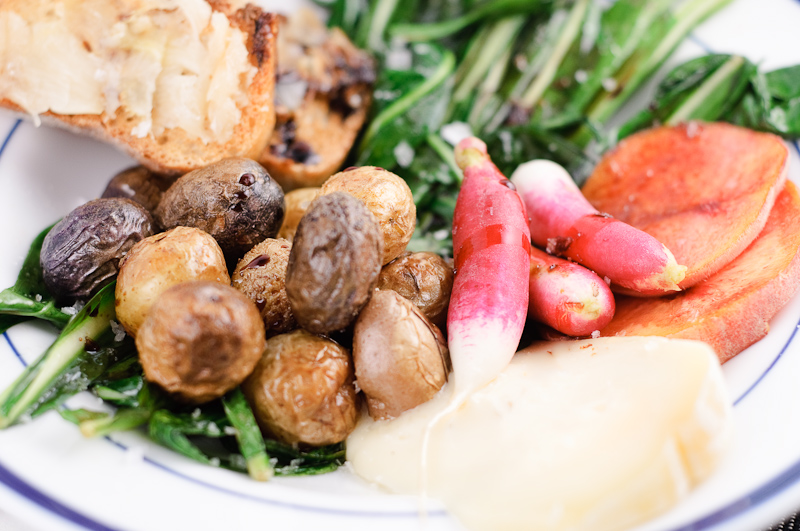 Salad of Puntarelle, Tiny Potatoes and Teleme
Sarina and I both fell in love from afar with these tiny little potatoes from Olsen Farms. We spotted them from a few booths away at the farmer's market, and even though we have several rows of potatoes growing at home, we had to have them. I know it is hard to see the scale, but each one was just a bit bigger than a large marble.
On the same day, I found this puntarelle (the leafy green you see in the picture). It looks a bit different than any pictures I found on the web with the same name. Possibly it was younger. Apparently it is in the chicory family. Certainly quite bitter, to the point where I wouldn't really eat it raw.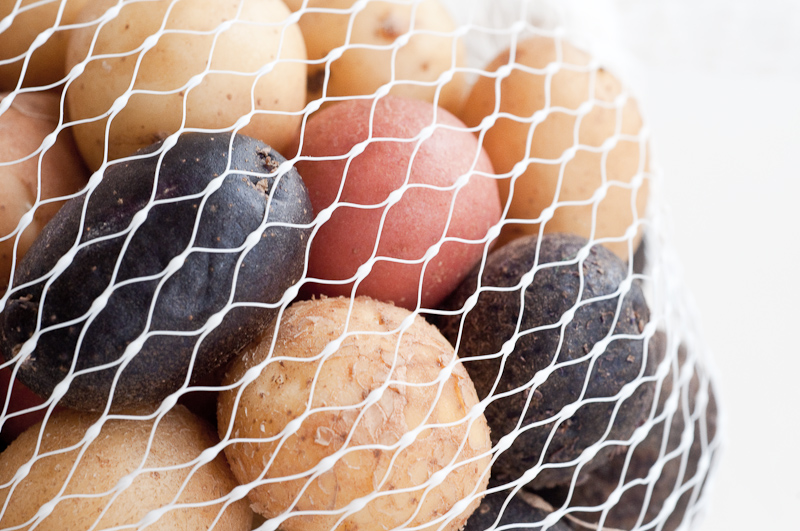 This wilted salad was my idea of how to pair these two beautiful ingredients. I added radishes, which accentuate the sharpness of the greens, creamy Teleme cheese and roasted garlic to tame them, and peaches and fine balsamico for a bit of sweetness. Toasted walnuts would be an excellent addition. Another soft cheese, a blue cheese or even feta could replace the Teleme
This same concept could be applied to other bitter greens, especially in the chicory family (escarole, radicchio, etc). If it was a head type instead of individual leaves, grilling would be a fine option.
Salad of Wilted Puntarelle, Tiny Potatoes and Teleme
Serves 4
Vegetarian and gluten-free; vegan if you omit the cheese
1 head of garlic
1/4 cup extra virgin olive oil
2 cups tiny potatoes (or cut up larger ones)
1 bunch of puntarelle, tough part of the stem removed
1 peach, peeled and cut into 8 sections
4 small pieces of Teleme cheese, room temperature
8 small radishes
8 slices of baguette
salt
balsamico
Slice the top 1/8" off the top of the head of garlic, wrap in tin foil, and roast in the oven or toaster oven at 375 F. for 30 minutes or until tender.
In a large skillet, heat the 1/4 cup of olive oil over a medium-high flame. Add the potatoes and 1/4 teaspoon of salt, and cook, stirring occasionally in a single layer until tender and the skins are beginning to brown. Blot with paper towels.
Drain excess oil from the skillet and add the puntarelle along with a pinch of salt and cook until it is beginning to wilt, about 1 minute.
Brush the baguette slices with olive oil, toast them, squeeze roasted garlic cloves on them and spread.
To assemble the salad, divide the greens among 4 plates. Top with the potatoes, peach sections,, cheese, radishes and roasted garlic toasts. Sprinkle on a bit more flaky sea salt and give them each a drizzle of balsamico.