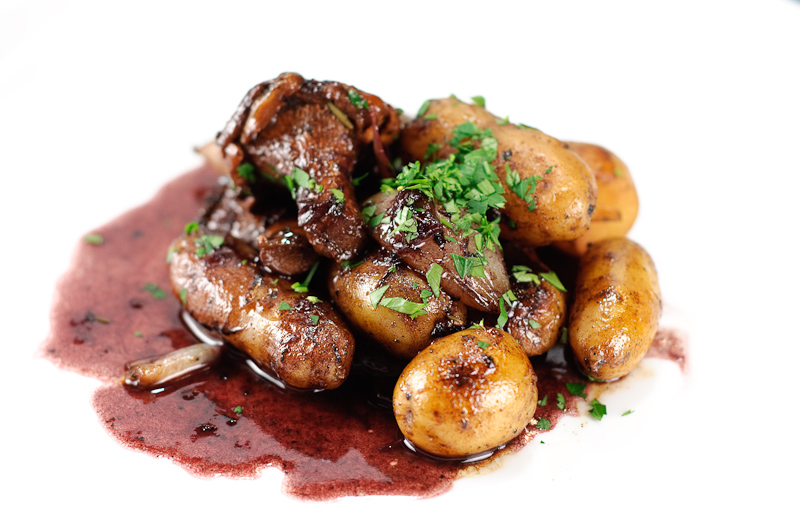 Potatoes, Chanterelles, Shallots in Red Wine Sauce
I'd been ruminating on how I was going to use these heirloom Rose Finn fingerling potatoes from our garden. My first thought was to glaze them in butter with shallots and preserved lemon. Then the whole plan changed when I was walking past our co-op and spotted a huge bin of beautiful local chanterelles.
Sometimes all of the chanterelles I can find are either half dried up, or else soggy and on the verge of rotting. Not these – they were plump and firm and fully arresting. My coworkers were a bit amused when I veered off from our afternoon coffee run directly into the store and returned to work with a big bag of mushrooms.
So: out with the preserved lemon, and in with a red wine pan sauce. I should cook like this more often. Ridiculously simple, earthy, rich, and delicious. A very French feel. I particularly liked having the potatoes in the dish, because after I ate all of the mushrooms and sweet shallots, I mashed the spuds into the sauce and mopped it all up.
Potatoes, Chanterelles, Shallots in Red Wine Sauce
Vegetarian and gluten-free
Serves 2 as a major side or up to 4 as a few bites; or me for my whole dinner
4 tablespoons butter, divided
2 cups small (or cut) fingerling potatoes
1 cup or more chanterelle mushrooms, thoroughly wiped clean
4 medium or 2 very large shallots, cut into large bite-size chunks
1/2 teaspoon minced fresh rosemary
1/2 teaspoon kosher salt
3/4 cup red wine
minced fresh flat-leaf parsley
black pepper
In a medium skillet with a lid, melt 2 tablespoons of the butter over medium heat.
Add the potatoes, mushrooms, shallots, rosemary and salt and toss to coat. Cook for about 8 minutes, trying to get a little browning going but without burning anything.
Add 1/2 cup water, put on the lid, and reduce the heat to a simmer.
Cook until the potatoes are tender, adding more water as needed to keep it from burning.
When the potatoes are cooked, remove the top and raise the heat to cook off any remaining liquid.
Remove all of the vegetables to a platter, and then deglaze the pan with the wine. Raise the heat to medium high. Scrape all of the browned bits (the fond) off of the bottom of the pan into the sauce. Break up the remaining butter and whisk it vigorously into the sauce, which should have a nice sheen. This whole step should take just a couple of minutes, reducing and thickening the sauce slightly.
Spoon the sauce over the vegetables (either on a platter or individual plates), garnish with parsley and a grind of black pepper and serve.