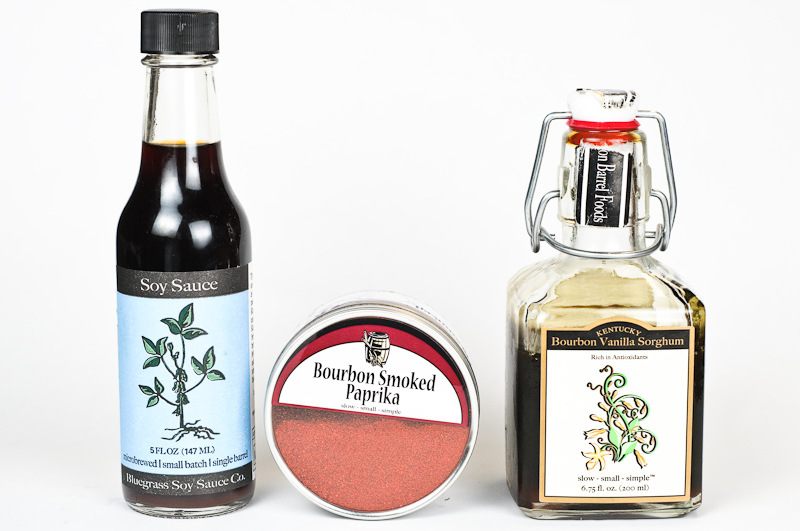 I grew up in Louisville, Kentucky. In the 1970s. Not gonna lie to you. At that time it was pretty much a gastronomic wasteland, except for the not inconsiderable charms of Waffle House. Scattered, smothered and covered.. but I digress.
Bourbon has always been one of Kentucky's greatest exports. Even in the dark days, there was Maker's Mark and a handful of others making quality whiskey. Now the big houses like Jim Beam have many single-barrel upmarket products, and smaller producers such as Bulleit are making superb bourbons.
So it is only fitting that Bourbon Barrel Foods is using … wait for it … bourbon barrels … to age some absolutely beautiful, artisanal foods. They graciously sent me three samples recently, and I've enjoyed them all.
Fine soy sauce is a non-trivial undertaking, and frankly I was a little skeptical. I needn't have been. This one has a rich, complex flavor without any chemical or caramel-flavor notes.
The bourbon-smoked paprika tastes as good to me as any from Spain. It isn't too spicy, and the smokiness level is just right to enhance an adult mac & cheese or this panko-crusted egg.
And possibly my favorite, if forced to choose: the bourbon-vanilla sorghum. Sorghum is a grass that is used mainly as animal fodder in America, though in other parts of the world it is an important cereal for people. When processed into a syrup, it has an intense flavor somewhat comparable to molasses. It might be an acquired taste for some, but I served it with pancakes for a group of 4 adults and 3 kids, and everyone enjoyed it. I think it would also be amazing with cornbread.
So there you have it. Some great products from my homeboys… makes me proud!