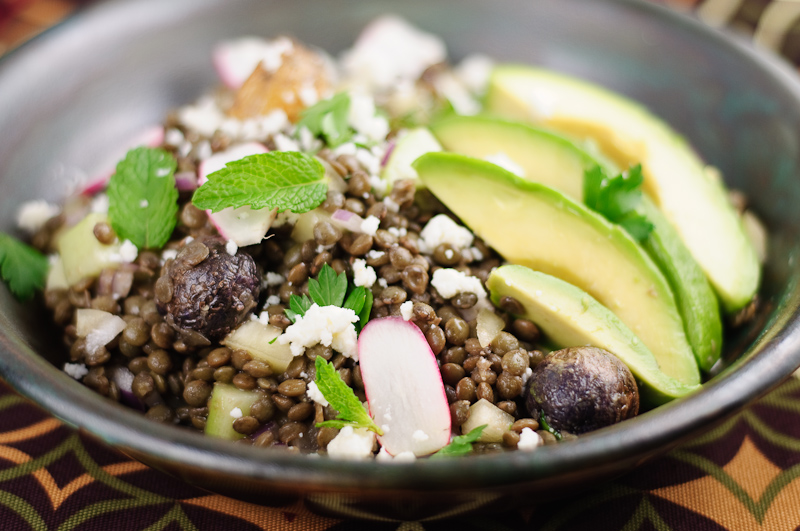 French lentil salad with Latin-American flavors
Lentil salad went through some bad years in the 80s and 90s, usually flaccid and overdressed, filled with canned vegetables. There was always the shadow of a good, simple, rustic dish there.
I like to make it with French lentils, otherwise known as green lentils. The best ones are from the from the area of Puy
. They are a little smaller and rounder than the normal brown lentil, and they hold their shape even when tender, instead of voluntarily pureeing themselves into lentil soup. Another option are the black "beluga" lentils.
Once you have cooked lentils in hand, a salad is a simple thing. You can pick any combination of cooked and raw vegetables that go well together, fresh herbs, and a straightforward dressing of citrus juice and olive oil.
I opted for Latin American flavors this time. with tiny roasted potatoes, cucumber, red onion, avocado, radish, lime juice, and a gilding of ranchero cheese. You could just as easily use lemon instead of lime, feta instead of ranchero, add thyme and oregano and call it Greek.
Latin-American French Lentil Salad
Serves 4 as a main, 8 as a side dish
Vegetarian and gluten-free; vegan if you omit the cheese

1 1/2 cups French green lentils (lentils de Puy AOC are the best)
1 cup tiny potatoes or cubed larger potatoes
1/2 medium cucumber, peeled, seeded and diced
6 radishes, thinly sliced
1/2 small red onion, small dice
big handful mint leaves (chopped if large, reserve a few for garnish)
big handful parsley leaves (reserve a few for garnish)
lime juice
extra virgin olive oil
salt
1/2 cup crumbled queso fresco
fresh ground black pepper
1 avocado, sliced
Rinse the lentils and pick them over for stones and debris. In a saucepan, cover them with plenty of water and boil for about 25 minutes until tender but not falling apart. Add more water if needed. Drain and allow to cool.
Meanwhile, toss the potatoes with olive oil and salt and roast at 400 F. until tender and browned. You can also do this in a skillet.
Combine the drained lentils, the potatoes, cucumber, radishes, onion, mint and parsley, and 2 teaspoons of salt and toss well.
I dress this salad by eye and taste. Start with the juice of 1 lime and a good glug of olive oil and then toss. You've got it right when there is a slight gloss of dressing but it isn't swimming. Taste and adjust the balance of acidity and salt as needed.
You can refrigerate at this point for a day or two, no problem. Just bring back to room temperature or slightly warmer before serving.
To serve, garnish with the queso fresco, mint and parsley, a nice grind of black pepper, and the avocado.