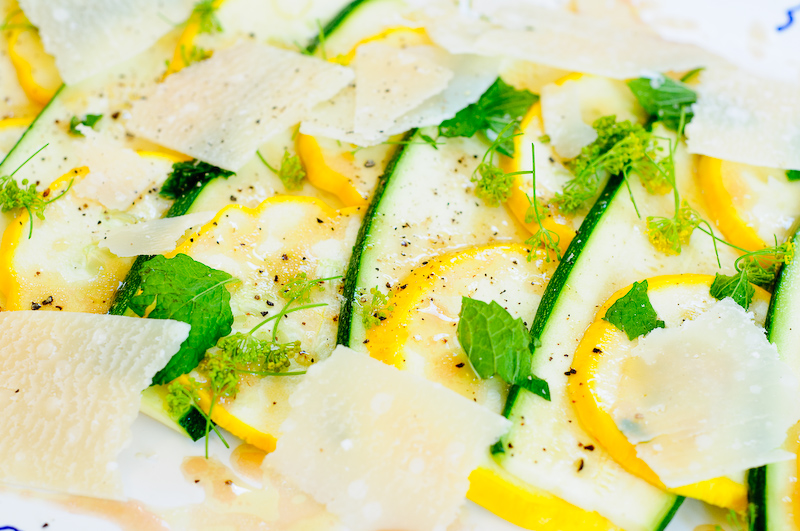 The general idea for this lightly cooked zucchini carpaccio came from Paul Bertolli's magnificient Cooking by Hand, which I've reviewed here. I was looking for a something fresh and summery to balance out an Italian menu. It makes an attractive and refreshing alternative to a typical salad. Do it when you have perfect, fresh from the garden zucchini that deserve a turn in the spotlight.
I changed the garnish a bit; instead of pine nuts and basil I chose mint and dill flower heads (along with the olive oil and parmigiano reggiano). Dill flower heads have an intense taste, somewhat reminiscent of caraway (which is in the same botanical family).
The original calls recipe for steaming over water, but I found that the microwave works great. You can cook a batch in a single layer for 30 seconds at a time until they reach the perfect degree of tenderness. In retrospect I think next time I will cook them just a little more than you see in the picture.
I've been enjoying serving family style instead of individual plates. It is less fussy and creates a sense of generosity and community that can be absent from individual plates. This salad looks beautiful on a big platter, and you can make it an hour or two in advance and hold it in the refrigerator until a few minutes before serving.
You'll need a mandoline or mad knife skills to make this. Slices of even thickness are essential both to the appearance for even cooking.
Zucchini Carpaccio
Serves 6 as a light salad course
Vegetarian and gluten-free; vegan if you omit the cheese
2 green zucchini, about 1 inch in diameter and 7 or so inches long
2 yellow zucchini or summer squash, same dimensions or 4 yellow pattypan squash (the UFO looking guys)
4 tablespoons extra virgin olive oil
4 teaspoons sherry vinegar, champagne vinegar, or good red wine vinegar
1 tablespoon minced shallot
2 teaspoons flaky sea salt
black pepper
small handful of fresh mint leaves
small handful of fresh dill heads or regular fresh dill, or other herb of your choice
Parmigiano-Reggiano
Trim the ends of all the squash. Using a mandoline, slice somewhere between 1/16 and 1/8" thick. Discard slices that are mostly skin. Working in batches that will fit in a single layer on a microwave safe plate, cook 1 minute. Then cook 30 more seconds at a time until they are quite tender. Reserve on a sheet pan in the refrigerator, keeping the single layer so they don't tear.
Let the shallot macerate in the vinegar for a few minutes, then whisk in the olive oil and 1 teaspoon of salt.
When you are ready to serve, arrange either on chilled individual plates or a family style platter. You can see the arrangement I used above, overlapping alternating slices of 1 green zucchini with 2 yellow pattypan, but go with what you feel.
Drizzle on the dressing.
Tear and distribute the herbs. (If you have the dill heads, break them up into small flowers, they are real purty).
Use a vegetable peeler to distribute thin slices of parmigiano-reggiano.
Add a final sprinkling of sea salt to taste.