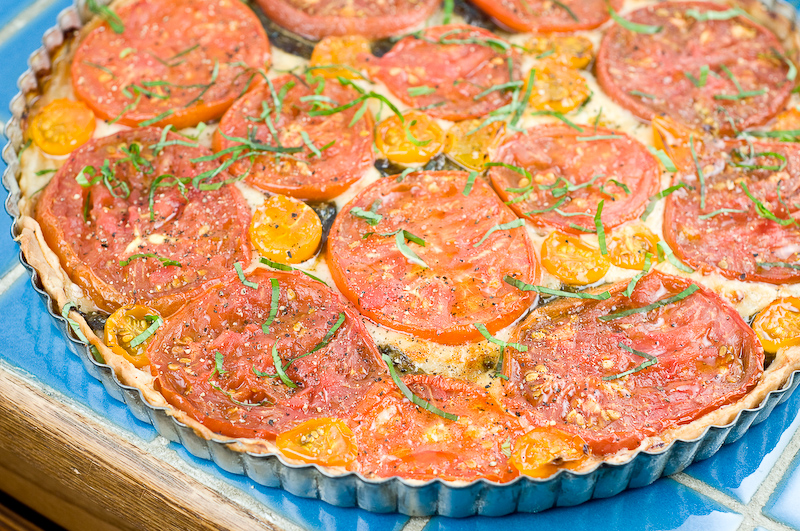 Heirloom Tomato Tart
While we are on a roll with the pastry crusts, let's not forget the wonderful savory possibilities! For this one I used the exact same crust as last week's crostata, but baked it in a tart pan and filled it with a tasty aged provolone, Purple Cherokee and Sungold tomatoes and basil.
A useful trick with fresh herbs is to add them twice; once early in the cooking for a deep, infused flavor and a second time at the very end, for the bright green notes.
You could serve this with a green salad for a light meal, or in smaller slices as an appetizer.
The tomatoes are of course going to give off a decent amount of moisture which will keep the bottom crust from being perfectly crispy, though it is still delicious. Brushing with olive oil first can help a bit. If you have the time, you could roast them separately and blind-bake the crust.
For a variation, you could substitute any flavorful cheese that melts well. Fresh thyme, parsley or rosemary would be good instead of (or in addition to) the basil. If you use the rosemary, mince it finely and only do the first addition – don't garnish with it.
Heirloom Tomato Tart
Makes one 11" tart, serves 4-6
Vegetarian (with dairy)
1 batch of the pastry recipe from this crostata
small handful of fresh basil leaves, chiffonade (thinly sliced), divided in two parts
1 tablespoon extra virgin olive oil
1 cup grated aged provolone cheese
2 large heirloom tomatoes, cored and sliced parallel to their base (not vertically), about 1/4" thick – don't use the top or bottom slice
handful of heirloom cherry tomatoes (preferably of a contrasting color), halved
sea salt
black pepper
Preheat oven to 400 F. Use convection if you have it, it will help get some moisture off of the tomatoes.
Roll the pastry out so that it is bigger than the base of your 11" tart pan by about 1/2" all the way around. Roll up on your pin and unroll over the tart pan. Push down into the corner and use a knife (carefully) to trim the top edge.
Brush the crust with olive oil.
Distribute the cheese and half of the basil.
Arrange the large slices of tomato, fitting them as closely together as possible. Fill in the areas between them with cherry tomatoes.
Bake for about 45 minutes, until the crust is golden brown. After about the first ten minutes of baking, prick all of the large tomatoes a few times with a fork to aid moisture release… even gently push down on them with the tines of the fork, without distorting their shape too much.
Remove from the oven and let cool ten minutes. Top with the remaining basil and a healthy dose of flaky sea salt and black pepper.