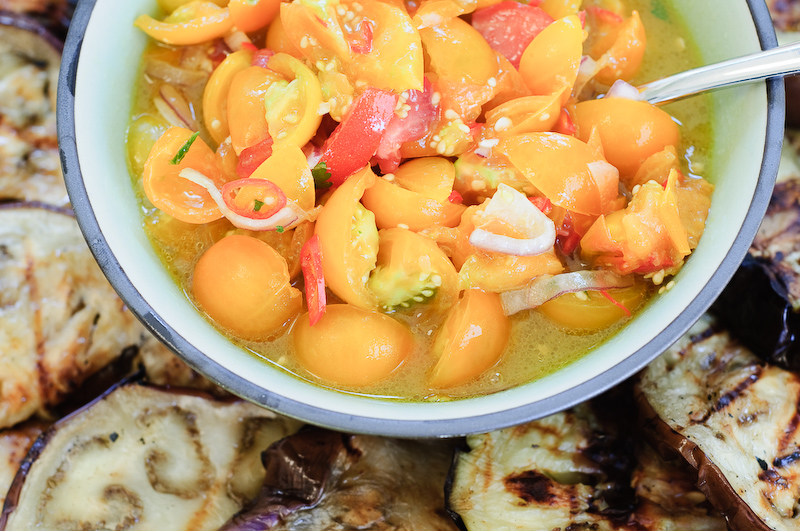 Grilled Eggplant with Fresh Arrabiata
In the course of planning an Italian-oriented meal, it occurred to me that an arrabiata sauce has mostly the same ingredients that you would associate with a fresh Mexican-style salsa. Traditional arrabiata contains onion, garlic, tomatoes and fresh chili peppers. "Arrabiata" means "angry", referring to the heat from the chilis.
So it might be a bit of a stretch, but I prepared this raw version with cherry tomatoes and chile de arbol that went smashingly with simple grilled eggplant. You could serve this as an appetizer or salad course. If you are grilling, throw the eggplant on first and your guests can nosh on this while you prepare the rest of the meal.
As you can see from the picture, it would have been wise to drain some of the liquid from the tomatoes first – so the recipe is written with that instruction.
Grilled Eggplant with Arrabiata Fresca
Serves 6 as an appetizer
Vegetarian, vegan, and gluten-free
2 cups cherry tomatoes, halved (or an equivalent amount of larger heirloom tomatoes, large dice)
1/2 teaspoon sea salt
1/2 clove garlic, minced
1/4 small white onion, thinly sliced
1 fresh chile de arbol, seeds and ribs removed, minced (more or less to your heat preference)
2 tablespoons extra virgin olive oil
2 large or 4 smaller eggplants – look for ones that feel heavy for their size – cut into 3/8" thick slabs or rounds
olive oil for grilling
Put the cut tomatoes in a sieve, toss with the salt, and let drain for one hour. Drain that over a bowl and drink it, cook's treat!
Transfer the tomatoes to a small bowl and toss with the garlic, white onion, hot pepper, and olive oil. Taste and adjust seasoning. Allow to rest awhile for the flavors to develop. As long as you are serving within an hour, don't refrigerate – it tastes much better at room temperature.
Brush eggplant slices with olive oil and grill (or roast in 400 degree oven) until thoroughly tender. Undercooked eggplant is horrible, please don't do that.
Serve the eggplant and pass the salsa.