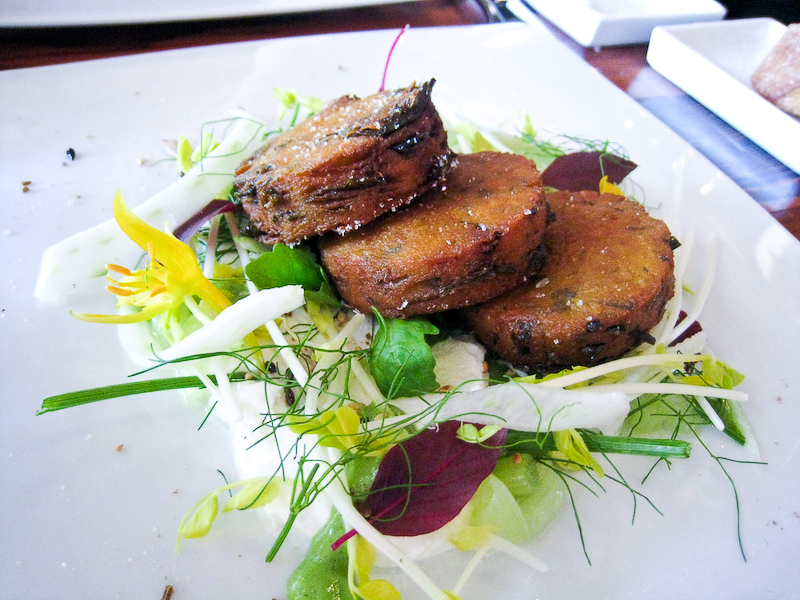 I first heard about Ubuntu when Chef Jeremy Fox won a Best New Chef award from Food and Wine in 2008. I was thrilled to hear that a restaurant was cooking vegetables at that level, and simultaneously despondent that I wouldn't be able to make it to Napa anytime soon. When Sarina and I planned a San Francisco trip for our five year anniversary, I knew right away that we had to make a detour up to wine country.
Fox, along with his wife Deanie (the pastry chef) opened Ubuntu after leading the Michelin 2-star kitchen at Manresa in Los Gatos. The idea that a chef of his caliber and experience is choosing not to cook meat is revolutionary. Many of his colleagues with similar credentials would say he'd gone crazy. Crazy like a … Fox… oh wait.
I can't tell you how nice it is for me to have an entire menu to choose from at a fine restaurant, instead of what is all too often a vegetarian afterthought, thrown begrudgingly on the menu by chefs who look down their noses at any entree that doesn't feature a "protein".
Ubuntu serves no ordinary hippie vegetarian dishes. To make the distinction, Fox invented the apt term "vegetable-inspired cuisine". The vegetables, many of which are grown in their own biodynamic garden, have inspired him to create food that is by turns sensuous, rich, austere, surprising, humorous – in short, on a par with the best modern restaurants anywhere in the world.
Most of the items at Ubuntu are just a little bit bigger than a typical "small plate", but small enough that as a party of two, we could readily eat five of them plus dessert and not be overstuffed. This was great because we had the opportunity to try lots of tastes. Each course was perfectly paced so that we could share and enjoy, then have a few minutes to relax before the next appeared.
Service in the airy, modern dining room was just as you would expect. The staff was friendly and perfectly professional. They gave us great guidance about how much to order and what plates would go well together, and handled Sarina's nut allergy with reassuring confidence. For those of you with other dietary requirements, the menu indicates which dishes are vegan or can be made so, and they are also quite willing to help the gluten-free folks.
Let me walk you through the courses (with apologies in advance for any details I have wrong – the lunch menu isn't online, and there is a lot of detail in these dishes!)
First off, above, were these fried, very light vegetable fritters. The fritters themselves tasted of leek, reminscent of the keftyes de prasa my Sephardic family makes at Passover, and were served with two sauces: a whipped chevre and a puree of sweet peas (or maybe favas?). The surrounding salad was "The Nasty Bits" – fennel fronds, tiny beet leaves and other oft-neglected but flavorful vegetable parts. This is Fox's herbivore twist on the nose-to-tail philosophy that is popular among omnivore chefs these days. Consider it an invitation to experience the taste and texture of foods you've probably been blindly binning until now.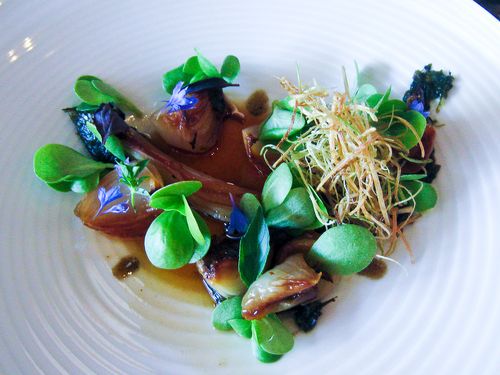 Our second course was roasted onions in their own jus. The oniony broth had a profound umami depth and complex sweetness, offset by the slightly sour purslane leaves. It would be hard to choose, but this was probably my favorite dish, for the combination of long-cooked and raw, together with the simple surprise of experiencing onions in a starring role.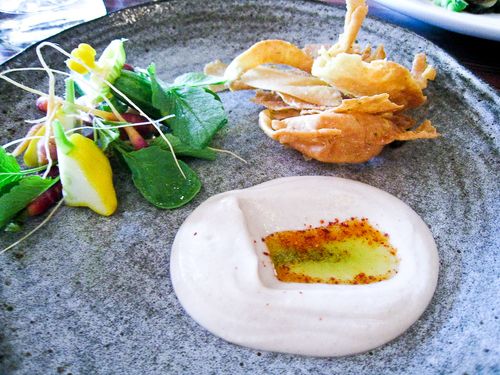 Next up was a simple, light and velvety puree of heirloom beans from nearby Rancho Gordo. Unfortunately I didn't catch either the variety of bean nor what type of chips were served with it. I was completely taken with the zucchini blossom you see in the accompanying salad. What, you don't see it? That's because the petals were trimmed away, leaving only the shocking yellow stamen. See it now?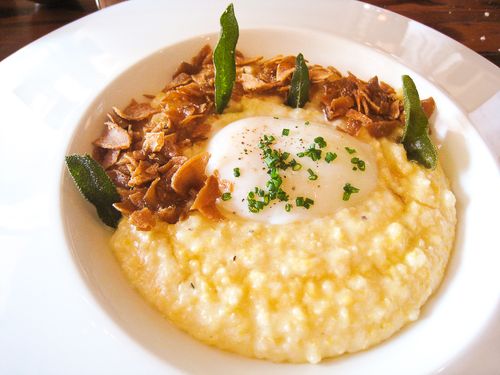 Time for breakfast. Local stoneground grits and a poached egg accompanied by "bacon" made from smoked trumpet mushrooms with BLiS oak-aged maple syrup and fried sage leaves. Good lord man. I could eat this every day. Meat analogues in general are sort of silly, but the bacon analogy here was apt. The mushrooms were simultaneously crispy and chewy, sweet, smoky and savory. Chef Fox grew up in Atlanta, no wonder he makes grits that could make this Southern boy go all misty-eyed. Hmm, maybe this was my favorite course.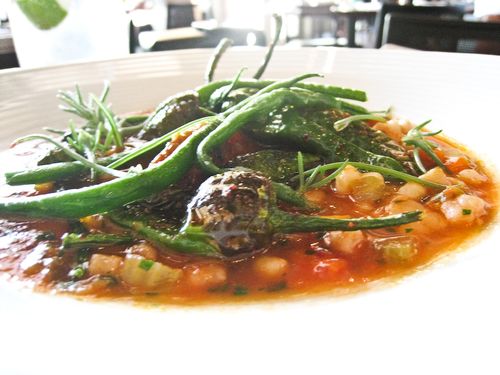 This dish of fregola resembled a traditional entree more than anything else we sampled, and of course the kitchen chose quite rightly to send it last. Fregola is a Sardinian toasted pasta, served in a tomato broth with carrots, onions and celery and topped with grilled Spanish Padron peppers and green beans, along with agretti – the bit that looks kind of like rosemary in the picture above, but is actually a succulent. I wish I had a reliable source of Padron peppers here in Seattle. They have a complex, green flavor with minimal heat (at least in this batch, apparently later in the year they can be muy picante).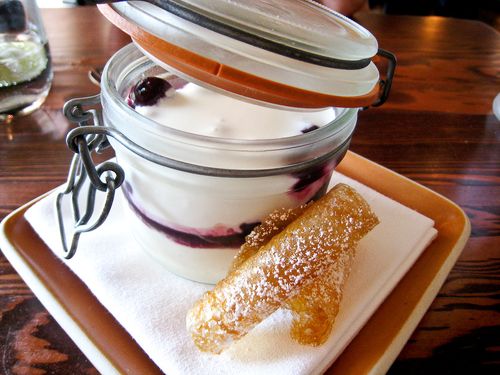 And for dessert, vanilla bean cheesecake in a jar. Pastry chef Deanie Fox has found a beautiful way to simultaneously maximize the clean, sweet dairy flavor while taking some of the unwanted heft out of the classic cheesecake. A perfect cool finish before walking back out into the hot Napa sun.
So what more can I say? This was easily among the top handful of meals I've had in my life; I loved everything about it. It was a tremendously satisfying lunch on a physical level, and it was even more exciting to me as a cook. It would be a thrill to me if I would even occasionally manage to get out a dish of the caliber I experienced here. I'll keep trying.
In the meantime, if you are anywhere within hailing distance of Napa, you need to go to Ubuntu. Whether or not you normally eat meat, I predict you are going to leave very, very happy.