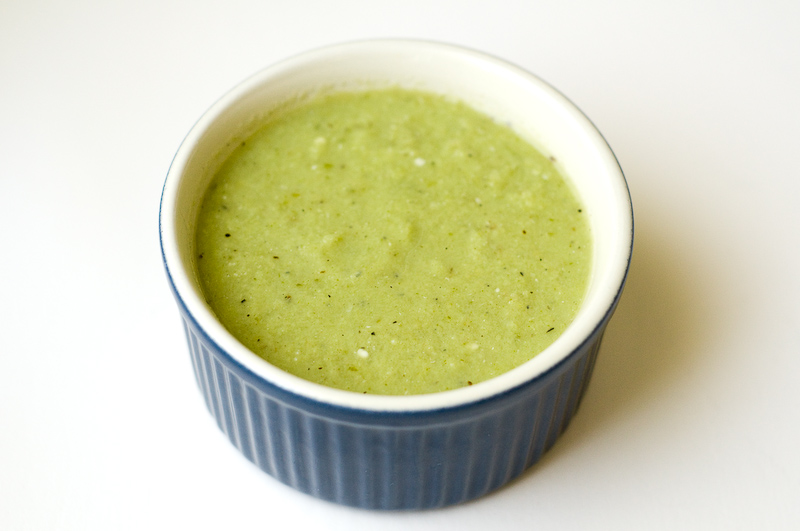 Pan-Roasted Tomatillo Salsa Verde
Green tomatillo salsa, aka salsa verde. Most people are familiar with it, but never make it. We think it only comes in jars or somehow magically appears at Mexican restaurants. It actually is ridiculously easy to do at home and tastes way better than the pre-packaged version. Once you've got it, you can serve it at the table with any Mexican dish or as a dip for tortillas, fry eggs in it, or use it as a sauce for enchiladas verde.
Let me introduce you to the tomatillo. You guys should be friends. You know, those green things that look like a tomato, usually in the "specialty produce" part of your grocery? Wrapped in a papery husk? Go buy 8 or 10 of them, around 1.5 pounds. You can thank me later.
The version of green salsa below uses a pan-roasting technique, but you can also boil the tomatillos whole, or oven roast, and you can optionally fry the finished sauce in some oil to deepen and intensify the flavors. I've gone for a pretty garlicky hit and medium heat, but you can certainly add other herbs (cilantro, epazote, oregano), or chipotles if you want a smoky spice, or just more serrranos or jalapenos for a biger kick.

Basic Pan-Roasted Tomatillo Salsa Verde
Vegetarian, vegan, and gluten-free
Yields about 2.5 cups
1.5 pounds tomatillos, outer husks removed, rinsed, cut in half
8 cloves of garlic, peeled and left whole
3 to 6 serrano chilis, stems removed
1/2 white onion, roughly chopped
1.5 teaspoons salt
2 tablespoons olive oil
Heat a large dry frying pan over medium-high flame. Add the tomatillos, garlic and chili peppers. Cook about 4 minutes on one side, then flip everthing and go another 4 minutes, until the tomatillos are quite soft. You can remove the chilis and garlic sooner if they are starting to burn.
Puree the vegetables along with the onion, salt and olive oil in a blender for several minutes.
Strain and serve. How easy was that?