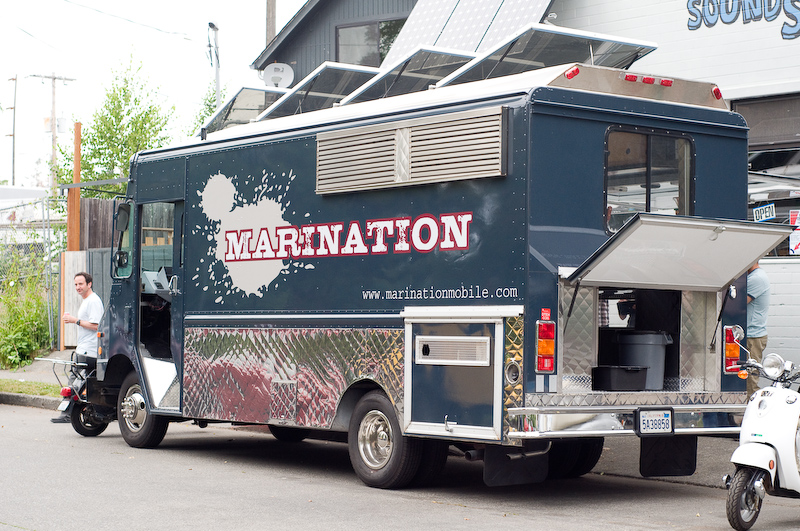 More groovy new street food in Seattle! Marination Mobile is prowling the streets, dishing up "Hawaiian and Korean curb cuisine". I'm presumably living right, because their Wednesday spot is right up the street from my work in Fremont (outside of Sound Scooters, at the same location that Skillet occupies on Thursday), so I've been able to hit them up twice in their first month of operation.
Marination's truck makes a good impression from a distance – shiny and clean, with cool graphics. Not that you eat the truck, but it makes you think that anyone who cares enough to keep the vehicle looking that good might be pouring some love into the food too. You'd be right.
There are only a few things on the menu: tacos, a kimchi rice bowl, sliders (mini hamburges, ala White Castle), and a kimchi quesadilla, plus occasional specials. I appreciate the brevity: street food is usually best when a few dishes are prepared over & over with fanatical attention to detail.
Marination's tacos and rice come with a choice of meats or tofu. Unfortunately for now at least, the tofu rice bowl isn't veg because the kimchi contains anchovy broth, but co-owner Kamala tells me that more veggie options are on the way.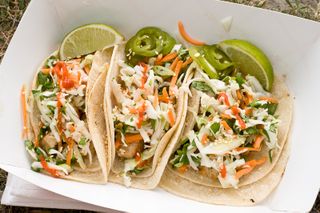 This is really no tragedy though, because the tofu tacos are vegetarian and delicious. The tofu is marinated (of course), grilled, and topped with a tangy slaw and slices of jalapeno, with limes to squeeze on and Sriracha sauce available if you want to spice them up. Three tacos make a good light lunch, and will only set you back $4.50 total – can't beat that! Their slaw was so good it inspired me to make these roasted-potato and asparagus tacos.
Omnivorous friends that joined me on each visit have tried the other menu items and liked them. I can say that the kimchi rice bowl in particular looked very flavorful and delicious.
Check out their schedule and give Marination a try, I think you'll be happy!