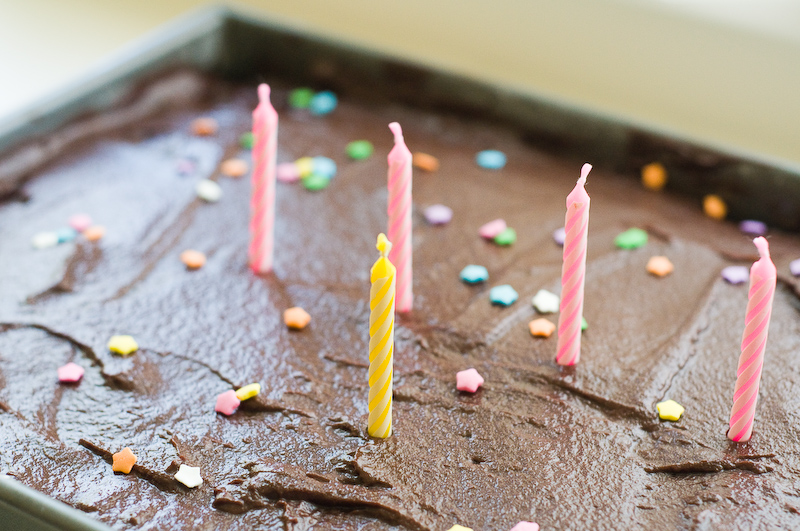 "Today is Grandma's birthday
and Granddad has an itchin'
to bake a whopper chocolate cake
and traumatize the kitchen"
They had me at "traumatize". Whopper Cake
, by Karma Wilson and Will Hillenbrand, is a great children's book. The story is of a Grandpa who wants to make a cake for his wife, but has a little bit of trouble following the recipe. It is just too tempting for him to scale it up a hundred-fold or so. A delicious mess ensues.
The book ends with a (normal-scale) recipe for Whopper Cake. With my daughter's birthday approaching and the book in nightly rotation, it was obvious that we should make it for her big day. I can confirm, it makes a very moist, tasty chocolate sheet cake. You should buy this book for any kid that loves to cook with his or her family. Or any kid that loves cake.
The recipe didn't specify a frosting, but I was faced with three simple facts: (1) we had a lot of leftover cream cheese (2) my wife loves cream cheese frosting (3) cream-cheese frosting is super easy to make. Here's what I came up with:
Chocolate-Cream Cheese Frosting
Enough for a 9"x13" sheetcake
Vegetarian and gluten-free (the icing, not the Whopper Cake!); not vegan
12 ounces good quality chocolate chips (Ghiradelli works well)
4 tablespoons unsalted butter
6 ounces cream cheese (I used the whipped kind, but a denser one should work fine too, just break it up into cubes), at room temperature
1/8 teaspoon salt
Melt the chocolate chips and butter in a double boiler or microwave. To microwave, combine in a microwave-safe bowl and cook 1 minute at a time, stopping to carefully stir in between. This is my favorite way to do it, you just have to be sure not to overcook or you can scorch it.
Allow to cool a bit, so it won't cook and curdle the cream cheese.
Whisk the cream cheese and salt into the melted chocolate. Keep whisking until smooth.
Refrigerate for an hour or so until firm enough to spread.
Yum.