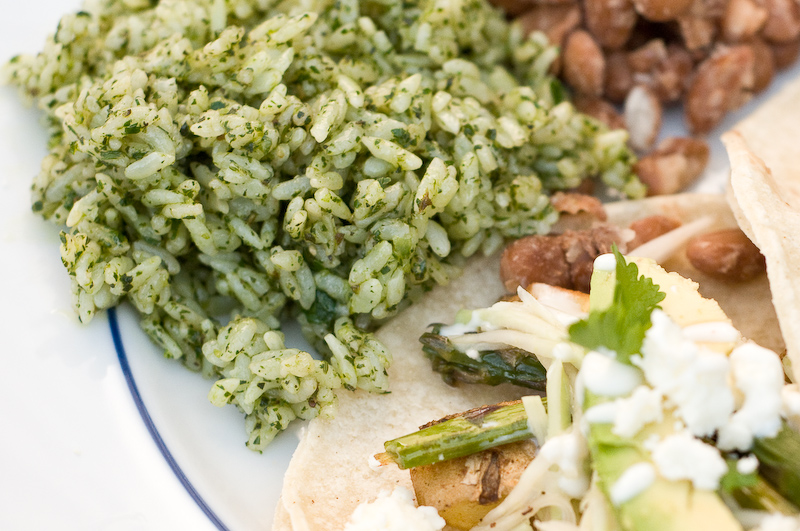 The traditional recipe for arroz verde involves cooking your rice with a puree of poblano peppers and herbs. It is truly delicious, and I'd choose it in a heartbeat over the typical red rice you find nearly universally at Mexican-American restaurants.
When I went to make it yesterday, I thought to myself "now why am I cooking all of these delicious fresh herbs?" Their flavor is so perfect when raw, why should I boil them for 20 minutes? So I took a new approach. I omitted the poblanos, and simply made a pesto-like puree of the herbs, garlic, and a little oil. After the plain rice was cooked, I stirred in the herbs right before serving.
The result was really satisfying, with a clean, bright, summery flavor. And as you can see, the green color is very appealing on the plate.
The recipe below calls for 2 cups of fresh herbs. My daughter and I raided the garden, and used a lot of flat-leaf parsley, oregano, and cilantro,and smaller amounts of chives, rosemary, mint and dill. You can vary it according to what you have available and what you are serving it with. Because the herbs are thoroughly pureed, you can use tenderish stems of parsley and cilantro as well as the leaves.
Arroz Verde – Mexican Green Herb Rice
Vegetarian, vegan, and gluten-free
Serves 4 as a side dish
1.5 cups medium grain white rice
2 cups edible parts of lightly packed fresh herbs (see note above)
2 cloves garlic, coarsely chopped
1/4 cup extra-virgin olive oil
1.5 teaspoons kosher or sea salt
Cook the rice in a rice cooker or according to package directions.
In a food processor, combine the herbs, garlic, and olive oil. Process until thoroughly pureed.
Just before serving, stir the herb mixture and salt into the rice. Taste and add more salt as needed.
Variation: you could also stir in a bit of lime or lemon juice.