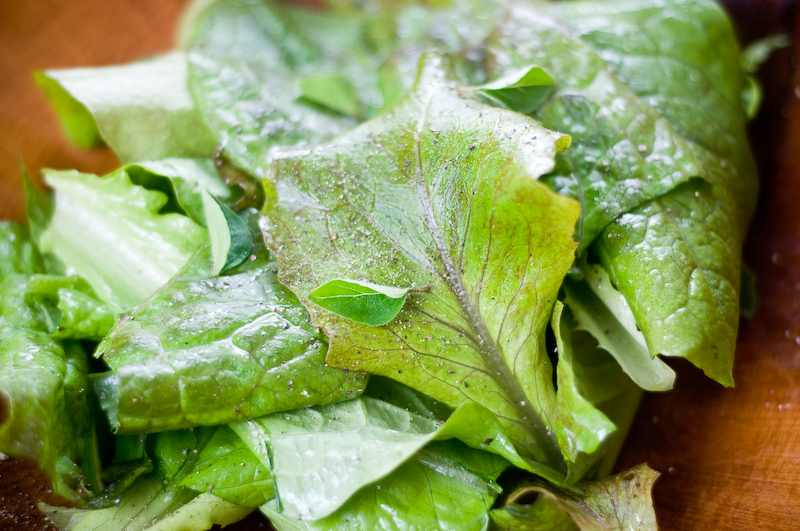 Salad greens with lemon-mustard vinaigrette
I've never understood why people buy salad dressing, when an infinitely more delicious, fresher, healthier homemade vinaigrette is only 30 seconds away.
I make variations of vinaigrette all the time, but today I want to share with you my absolute favorite, the one I return to at least once a week. I use lemon juice instead of vinegar, and a good amount of Dijon mustard. The result is bracing, fresh and citrusy.
The traditional ratio for vinaigrette is 3 parts oil to 1 part vinegar. Depending on the intensity of your vinegar, this tends to produce a rather subdued dressing. Especially with lemon juice, I tend to prefer something around a 2:1 ratio. That is what I've specified in the recipe below, but you should always taste it and adjust to your preferences, the salad being dressed, and what you will serve it with.
Meyer lemons will give you an even better flavor than the grocery-store standard Eurekas, and of course you should use a tasty extra-virgin olive oil.
The worst thing you can do to a potentially great salad is try and dress it with the leaves still wet from washing. The dressing runs right off, leaving a watery, unappetizing mess. I've owned a number of salad spinners over the years, but was never really satisfied until I got this Starfrit Salad Spinner. It holds a lot of lettuce, is solidly built, and the crank handle lets you get up to a good speed fast and get the lettuce truly dry. I like it much better than the models that rely on a push mechanism to start spinning. Highly recommended.
There are two advantages to adding a significant amount of mustard to a vinaigrette. The first is obvious: it tastes good. The second is that it acts as an emulsifier, keeping the oil suspended in the vinegar. When made this way, you can get away with combining all of the ingredients in a jar with a tight fitting lid and simply shaking well. It isn't necessary to drizzle in the oil while whisking in the traditional fashion, nor do you need a blender.
Salad dressings need to be highly seasoned with salt. Your salad will be lightly dressed, so if there isn't enough salt to make the straight dressing taste pretty strong, it will be underseasoned when applied to the greens.
You can feel free to add additional flavorings to this dressing. It will happily accept any finely minced fresh or dried herb, garlic, shallots, citrus zest or spices.
One last thought: this dressing is delicious on a big salad with lots of ingredients. But don't forget the joy of a simple salad of only lettuces, especially if they are fresh from the garden. You can grow (or find at a farmer's market) varieties that are far too delicate to be carried in a normal grocery store. The texture and flavor of these greens is incomparable. Treat them right by washing gently, drying thoroughly, and dressing at the very last moment. They will wilt within a very few minutes after meeting their vinaigrette.
If you enjoy this recipe, I've got 149 more in my cookbook!
Lemon-Mustard Vinaigrette – The Simplest and Best Salad Dressing – Recipe
Note: Vegetarian, vegan, and gluten-free

2 tablespoons freshly squeezed lemon juice
1/2 teaspoon prepared Dijon mustard (e.g. Grey Poupon)
1/4 teaspoon sea salt (preferably Maldon (aka the world's greatest salt)!)
4 tablespoons delicious extra-virgin olive oil
Option 1: combine all ingredients in a small jar with a tight fitting lid. Shake vigorously for 30 seconds until emulsified.
Option 2: Combine the lemon juice, mustard and salt in a bowl. Drizzle in the olive oil while whisking continuosly.
Taste and adjust the salt, and add more lemon juice or olive oil to achieve a pleasing balance of acidity.
https://herbivoracious.com/2009/05/lemon-mustard-vinaigrette-the-simplest-and-best-salad-dressing-recipe.html
Copyright 2007-2013 / Michael Natkin / Herbivoracious.com.