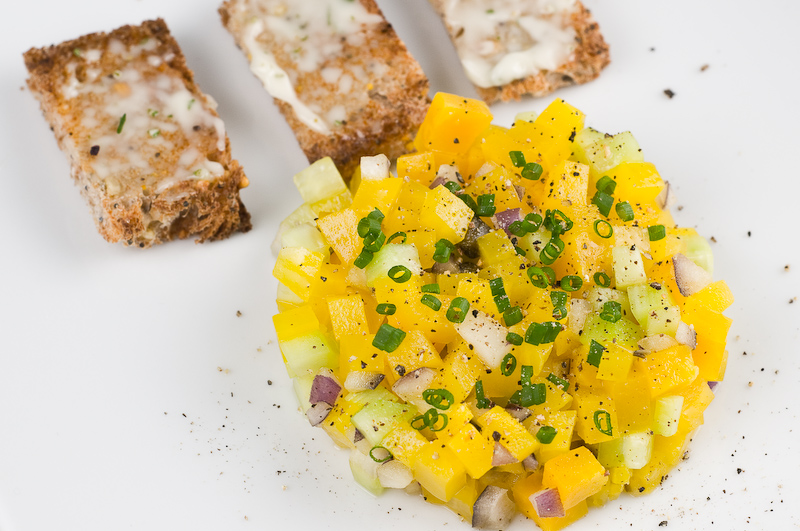 Wait! Wait! If you think you hate beets, don't surf away yet.
I love beets. I would eat them on a boat, I would eat them with a goat. I would eat them in the rain, or in the dark or on a train.
If your only experience is with canned beets, you haven't really ever had beets. I can't tell you how many people I've converted to shameless beet-loving over the years. I'm a certified beet evangelist. (Which makes it legal for me to marry root vegetables in most states).
Of course today's dish is really a beet salad, but using some of the complementary flavors often associated with beef tartare. The visual resemblance would be stronger with red beets, but I'm not really trying to mimic a meat dish here, just riffing off of it. I didn't think it needed a raw egg on top, but I did put rosemary mayo on the toast for a little fattiness. Sieved hardboiled egg would be nice too. I didn't add anything acidic, but if you want a little citrus juice in there it is ok with me.
You could serve this as an appetizer, or as a side salad with a grilled entree.
Golden Beet Tartare (aka. Finely Diced Beet Salad)
Vegetarian, vegan if you omit mayo or use a vegan mayo, gluten free if you omit the toast
Serves 4
4 tablespoons mayonnaise
2 teaspoons minced fresh rosemary
2 large golden beets (enough to yield 1.5 c. diced)
1/4 cup peeled, seeded and finely cucumber
1/4 cup finely diced red onion
1 tablespoon capers, drained
2 tablespoons extra-virgin olive oil
flaky salt (Maldon (aka the world's greatest salt)!)
1 tablespoon minced fresh chives
black pepper
4 pieces of thin, toasted or grilled bread cut as you see fit
Combine the mayo, rosemary and a couple pinches of salt. Do this first so the flavor of the herb has time to develop.
Boil the beets whole, in salted water, until tender. Remove the peels and then finely dice until you have 1.5 cups of dice. They should be no larger than 1/8". The easiest way to do this is slice off all 6 sides until you have a cube, then cut first into uniform slices, then batons (sticks), then dice. You'll have some extra stuff you can snack on or save for another purpose. If you take your time and do a nice dice, this dish would look really good.
Combine the beets, cucumber, onion, capers, olive oil and a teaspoon of salt. Taste and adjust seasoning.
To plate, arrange a mound of beets on each of 4 plates, or use a ring mold. Top with the chives, black pepper, and a few more flakes of salt.
Spread the rosemary mayo on the toast and serve.