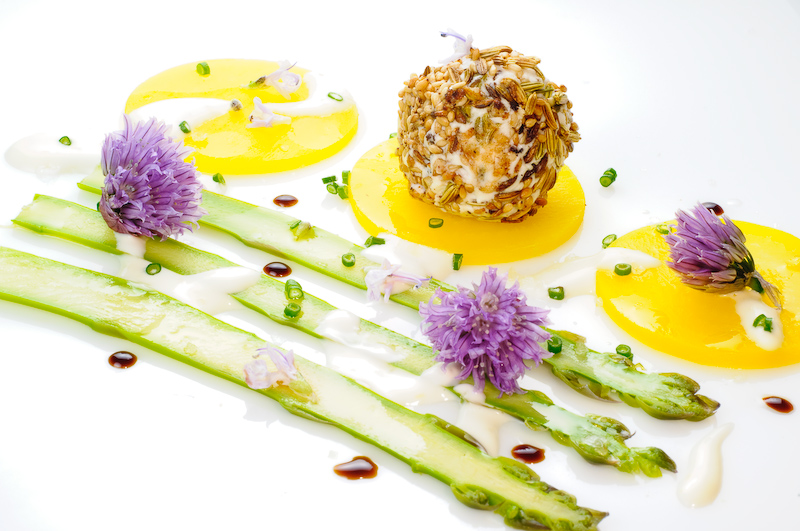 Salad of goat cheese, asparagus and beet
I've been inspired by Linda's use of edible flowers, and I realized that I have both chive and rosemary blossoms in my garden right now. The chive flowers are those purple puffballs, with an oniony flavor similar to the familiar herb. The rosemary petals are much smaller, and lighter purple but if you look closely there is one on the frontmost stalk of asparagus.
I've also been wanting to play with very thinly sliced vegetables. Thin slices create a textural surprise, allowing you to experience a familiar ingredient in a different way. Last year I made a salad with raw white asparagus shaved with a vegetable peeler. For today's version used my inexpensive Benriner mandoline.
I recently bought this kevlar glove
from Microplane which makes the mandoline a lot safer to use. I don't think I could have done the asparagus so nicely without it. If you don't have those tools, you could certainly make the same dish with a sharp knife, you probably just wouldn't be able to get such even slices. But it would still look and taste delicious.
Goat cheese seemed a natural to pair with the asparagus and beets. If you have a very special chevre, you might want to leave it unmanipulated. This one was good, but I opted to roll it in toasted sesame and fennel seeds for a little additional interest.
Time permitting, I would have liked to serve a bit of a very rich, lemony hollandaise, but for today I added lemon zest and juice to storebought mayonnaise to make the sauce, along with a few drops of good balsamic.
Goat Cheese, Asparagus and Beet Salad
Serves 4
Vegetarian and gluten-free; not vegan
2 medium golden beets
4 thick spears of asparagus, very thinly sliced (see note above)
4 ounces goat cheese (chevre), rolled into 4 balls and allowed to warm up to room temperature
1 tablespoon toasted sesame seeds
1 teaspoon toasted fennel seeds
2 tablespoons mayonnaise
2 teaspoons lemon juice
very finely cut zest of 1/2 lemon
8 chive blossoms
1 tablespoon minced chive
12 rosemary blossoms
flaky sea salt
1 tablespoon extra virgin olive oil
aceto balsamico
Boil the beets in salted water until tender. Remove with Cool in cold water. Peel. Slice to the same thickness as the asparagus. Optionally, use a circle cutter to make 12 uniform pieces.
In the same pot of water, boil the sliced asparagus for two minutes. Drop into ice water to retain the green color.
Roll the balls of goat cheese in a mixture of the sesame and fennel seeds.
Combine the mayonnaise, lemon juice and lemon zest with a pinch of salt and whisk until smooth. Adjust consistency until thin enough to drizzle.
To serve, place 3 slices of beet and 3 slices of asparagus on each plate. Brush the vegetables with a bit of extra virgin olive oil. Drizzle the lemon sauce and add a few drops of balsamic vinegar (use a medicine dropper or the tip of a chopstick). Add one goat cheese ball to each plate. Garnish with the chive, chive blossoms, rosemary flowers and a few flakes of salt.