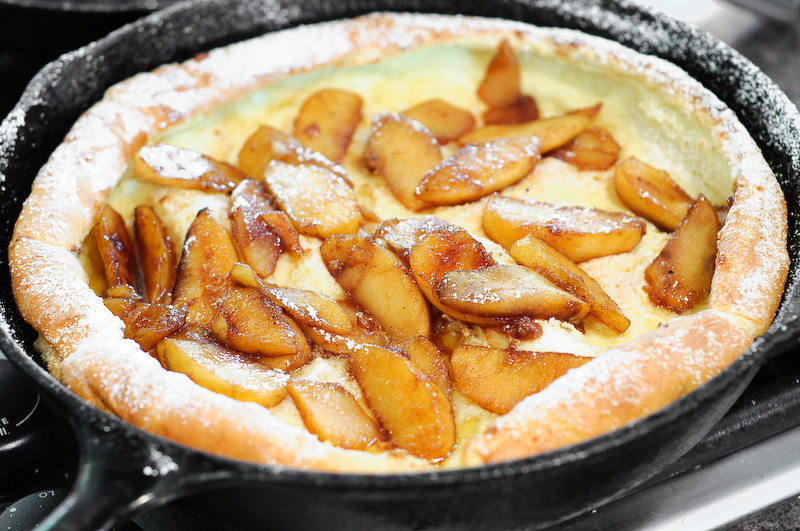 I happened to see Allen of Eating Out Loud's post on Dutch Babies the other day, and I was reminded that my wife, Sarina, had fond childhood memories of them. I'd never had one before, but the recipe looked easy enough that I could pull it off while watching the kids so we could surprise her for Mother's Day. I'm glad I did, it was delicious.
If you have had clafoutis before, Dutch Babies bear a lot of similarity. The batter has a bit less flour and more milk so it is a little more like a custardy than eggy. I think I might even like it a little better because there is less risk of getting an overcooked egg flavor.
I think this could easily be my new go-to brunch recipe. It has all of the right attributes: you can make the batter and the apples ahead, it finishes in the oven so you can hang out with your guests, and it is a little festive.
The preferred way to cook a Dutch Baby is in a cast iron skillet with a lot of butter in the bottom so that you get a little bit of a popover-type crust. It automatically puffs up and then sinks in the center, and you can then fill it with powdered sugar and fruit of your choice.
I like the savory direction that Allen went with it as well. The batter isn't sweetened, so I can see a lot of room to experiment. I'd like to try one with cubes of Swiss cheese and smoked paprika. And conversely it could be dressed up into a full scale dessert with the addition of ice cream.
I consulted several recipes and came up with this version, which I think you will like. It is is the perfect amount for a big 12″ cast iron skillet, and will serve 3 people if they are hungry and there are no other dishes, or about 5 if it is only part of a larger meal.
p.s. check out this cool illustration that Lisa Orgler did of my Grapefruit Crudo recipe!
[Update, 3/5/2012: here's a video version of the Dutch baby recipe]

Giant Dutch Baby with Sauteed Apples
Vegetarian; not vegan or gluten-free
Serves 3 to 5 (see above)
6 + 2 tablespoons unsalted butter
5 eggs
1 1/4 cups whole milk
1 1/4 cups all-purpose flour
pinch salt
2 apples, peeled, cored, and sliced into 16 pieces each
2 tablespoons brown sugar
1/4 teaspoon cinnamon
powdered sugar
1 lemon, cut into wedges
Preheat your oven to 425 degrees.
Combine the eggs, milk, flour and salt in a blender at high speed for 1 minute.
Put the 6 tablespoons of butter into a well-seasoned 12″ cast-iron skillet or other large, oven-safe container. Put the skillet in the oven.
When the butter is sizzling, carefully pull the skillet out and swirl it or use a brush to be sure the whole thing is coated. Pour in the batter and return it to the oven. Cook about 18 minutes until puffed and golden brown.
Meanwhile, in a saute pan, melt the remaining 2 tablespoons of butter over medium-high heat. Add the apples and saute for 5 minutes.  Add the brown sugar, cinnamon, and a pinch of salt, and saute until tender and glazed.
When the Dutch Baby is done,  carefully remove it from the oven. Pad off any excess butter on top with a paper towel. Top with the apples and a generous sprinkle of powdered sugar. Since you have it in a really hot skillet, you might want to serve it directly on to plates rather than bring that to the table. Offer lemon wedges on the side, they add a nice counterpoint to the sweetness.