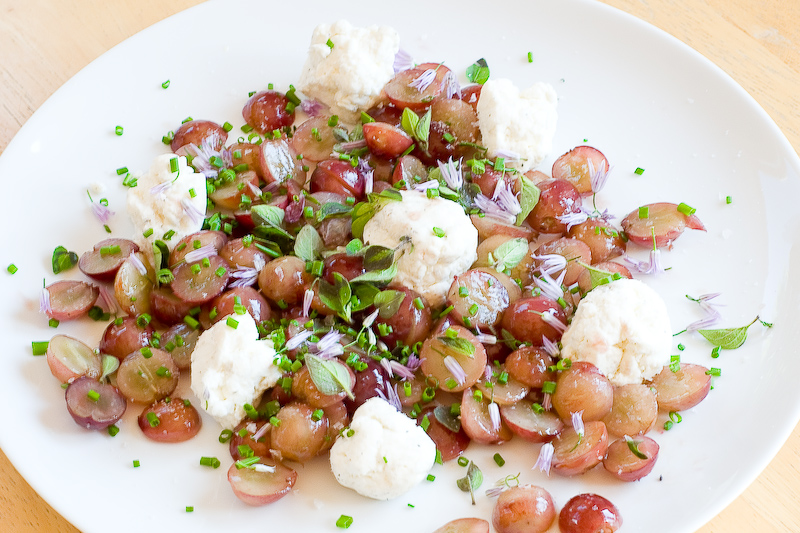 Chevre with Sauteed Grapes and Fresh Herbs
I love this appetizer because it comes together in minutes, tastes amazing, and the sauteed grapes provide an element of surprise and pleasure. It is a riff on a popular dish from Seattle's Osteria La Spiga, where they do it with Toma cheese wrapped in grape leaves.
This version is even simpler. You should feel free to try it with other cheeses and other herbs. Mint or basil would be delicious. How about grilled Halloumi cheese instead of the chevre?
I recently received a sample of an organic extra-virgin olive oil from Gaea. I used it for this dish and it added a very clean, clear, fruity and pepper note that I was happy with. I'm also impressed that their oils are certified carbon-neutral.
The finished dish can be plated family style like you see above, or in individual portions. Serve it with a crusty baguette or a grilled flatbread.
Chevre with Sauteed Grapes and Fresh Herbs
Vegetarian and gluten-free; not vegan
Serves 4
8 oz. fresh chevre (goat cheese; I'm partial to the Laura Chenel brand)
1.5 cups seedless red grapes, halved
1 + 1 tablespoons extra virgin olive oil
1 tablespoon fresh chives, minced
1 tablespoon chive blossoms, pulled apart into individual flowerets
1 tablespoon fresh oregano leaves
flaky sea salt
Divide the chevre into 8 parts and roll into balls. Set aside to warm up towards room temperature.
Just before you are ready to serve, saute the grapes in 1 tablespoon of the oil for 30 seconds over medium-high heat.
To serve, place the chevre balls on a plate. Distribute the warm grapes over the top. Drizzle with the remaining tablespoon of olive oil. Garnish with the herbs and sea salt.