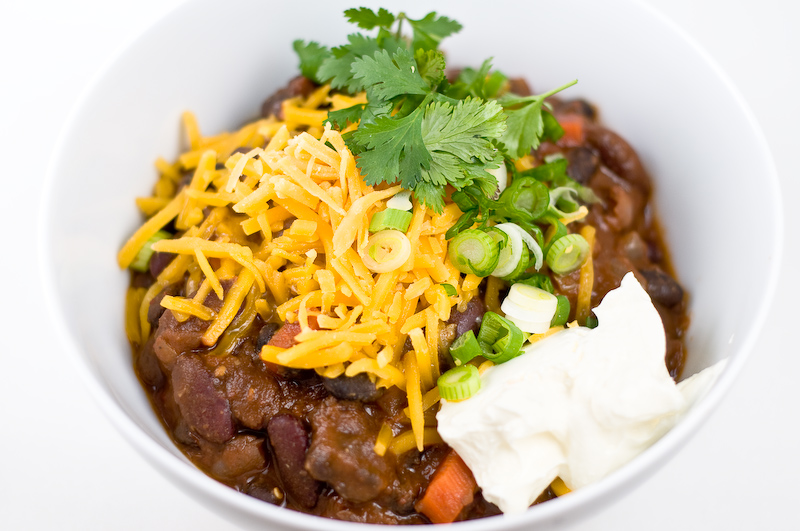 Vegetarian chili with all the fixins'
Vegetarian chili is one of the first veggie entrees that pop into people's minds (along with vegetarian lasagna of course). It is a delicious, easy and very nutritious meal-in-a-bowl. Add some tortillas or brown-butter cornbread and a salad and you'll feel like a king. It also can be made ahead; it just gets better over the course of a couple of days, and it freezes well.
There are many types of vegetarian chili, some loaded up with a meat-substitute, like TVP or vegetarian ground "beef" or even bulghar wheat, and others full of vegetables. I'm not a fan. I like to highlight the beans, cooking two or three varieties with a simple and flavorful tomato-chili sauce and just a few aromatic vegetables to build the flavor base. Multiple-choice garnishes give each diner the opportunity to customize to their own palate.
This is my "weekend" version of the vegetarian chili recipe, where I boil my own beans and make a tomato-chili sauce from relative scratch. Sometime soon I'll post a "weeknight" formula using more prepared ingredients. But remember, you can make this on the weekend and eat it all week.
Let's talk about heat level for a minute. This sauce is flavored primarily with whole dried chili peppers. You can control the spice by how many you put in, and how hot they are. I like to build a moderately spicy base, and then add canned chipotle pepper to the nearly finished product as needed. Don't omit them completely even if you don't like much heat, because they provide a lot of fruity flavor and thicken the sauce. Just go for milder varieties like ancho. Aim for the lowest common denominator that your dining companions can handle, and then offer hot sauces on the side, like Tapatio or Tabasco, or more adventurous brews
. Don't try to use fresh chilis, they are for completely different types of dishes.
I use a mixture of pinto, black and kidney beans in this recipe, and soak them overnight. You can get away without soaking them, or do a quick soak for a couple of hours starting with hot water. But honestly, it isn't the same. Overnight soaked beans just plain come out more tender and delicious, and much better than from a can.
Vegetarian Chili From Scratch
Yields around 10 cups, easily serving 5 (and doubles or triples beautifully)
Vegetarian, gluten-free, and vegan (if you modify the garnishes)
Prep time: 20 minutes
Cook time: 2 hours
1 1/2cups dry pinto beans
1 cup dry black beans
1/2 cup dry kidney beans
3 to 6 dried chili pods (any combination of ancho, guajillo, pasilla, cascabel, de arbol, … [see above])
1 small can chipotle pepper in adobo (double check for gluten free, or use dried morita peppers instead)
28 oz. can of crushed tomatoes
1 medium carrot, finely diced
1 white or yellow onion, finely diced
2 stalks celery, finely diced
1/4 cup canola or other neutral vegetable oil
4 cloves garlic, minced
juice of 1/2 lemon
salt
For garnish:
Green onion (sliced thin, mostly white parts only), or white onion (minced)
Cilantro leaves
Grated cheddar or queso anejo or cotija
Sour cream or queso fresco
Lime wedges
Carefully sort through the beans removing any extraneous material. Rinse well. Put in the pot you will eventually cook in, add 2 quarts of water, and soak overnight.
The next day, drain the beans, add water to cover by an inch or so, and bring to a boil. Reduce to a simmer and cook until the beans are very tender, which could take 1 to 2 hours depending on their age. Add water occasionally, and stir to prevent any scorching. When nearly done, add 2 teaspoons of salt.
Meanwhile, toast the chilis in a hot, dry skillet until darkened on both sides. Ventilate the room well while you do this, it produces a rather intense smoke that some people find painful. Allow to cool.
(Hint: use dispoable gloves for this step to avoid having spicy hands!). Break apart the chilis and dispose of the seeds and stems. Add the chilis, tomato sauce, half of the adobo sauce from the can of chipotle, and 1 teaspoon of salt to a blender and puree until very smooth. This sauce should be pretty spicy, because it is going in that huge pot of beans soon!
Saute the carrot, onion and celery with 1 teaspoon of salt in the oil for about 10 minutes, until soft. Add the garlic and saute for 1 more minute.
Drain most of the liquid from the beans, reserving a cup for later dilution if needed.
Add the chili sauce, vegetables and lemon juice to the beans. Bring back to a simmer and let cook for 10 minutes or so, allowing the flavors to begin to marry.
Now taste. If it needs more heat or a smoke, add the rest of the adobo sauce. If it needs a lot more heat, you can puree the chipotle peppers and add them. Add salt as needed. You shouldn't be tasting a lemon flavor, but there should be a subtle hint of acidity that wakes up the sauce. If the whole thing is too thick, you can dilute it with some of the reserved bean-cooking liquid.
Serve your vegetarian chili forth with the garnishes listed above.