I'm completely addicted to sparkling water, and so is my whole family. We go through quarts of the bubbly stuff every day, and believe me it was getting expensive! Even when we stepped down from imported to store brands, we were easily spending $30 per month, not to mention lugging it home from the grocery store.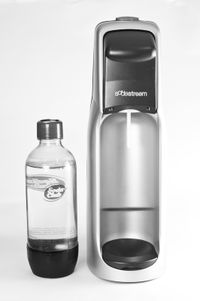 So last summer I learned about SodaStream
, and we had to give it a try. Bottom line: I've never been happier with a product I've bought for the house. Check out the video above – the machine is incredibly easy to use. You just fill up one of the included, reusable quart bottles with water, screw it into the machine, and depress a button a few times to release the CO2. In a few seconds you have a quart of delicious, refreshing sparkling water. By pumping more or less you can adjust the carbonation level to your own preference.
Ok, I can't help it, I'm just in love with this thing. It makes a terrific gift, by the way!
Here are 10 things I like about it:
Saving money: You'll spend less than $100 upfront, but then each canister of CO2 makes 110 quarts of water. If you were paying $2 each, you'll be ahead of the game in just a couple of months and never look back. I figure we save at least $25 each month.
Bottled water is an environmental disaster. Even if you use glass bottles, you have a huge amount of energy used to transport it from around the world to your grocery store and then home to your house.
Carting home lots of quarts of water from the grocery store is a pain in the neck! They are heavy and take up lots of room.
The heavy-duty plastic bottles are BPA free and you can reuse them for up to 3 years.
You'll never run out. You can make more sparkling water in just a few moments.
The customer service is terrific. When you need supplies, you just place an order on the website and put the old canister outside. A few days later, new ones magically appear. Tip: there is free shipping if you get two at a time.
Soda Stream also offers flavorings (like lemon essence), and soda packets if you want to make cola or lemon-lime etc. beverages at home. I'm not a big soft-drink drinker, but I do like to add a little bit of fruit juice sometimes. Pomegranate is especially delicious.
The machine is easy to use. Installing a new canister just takes a minute, and you only have to do it every few months (depending on your usage level of course), and making bottles of waters takes literally seconds.
The unit is compact and looks nice on your counter.
And it doesn't use any electricity at all! It is completely driven by the compressed gas.
Just get one. You can thank me later :)!
When I first wrote this article, the only option for exchanging the empty gas cylinders was by mail, which I've always done and it has always been seamless and trouble-free. Nowadays you can also exchange them at many major retailers like Bed Bath & Beyond, Sur La Table, Williams-Sonoma, etc.