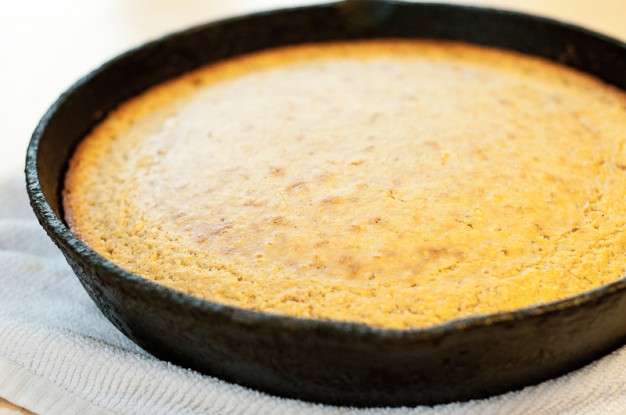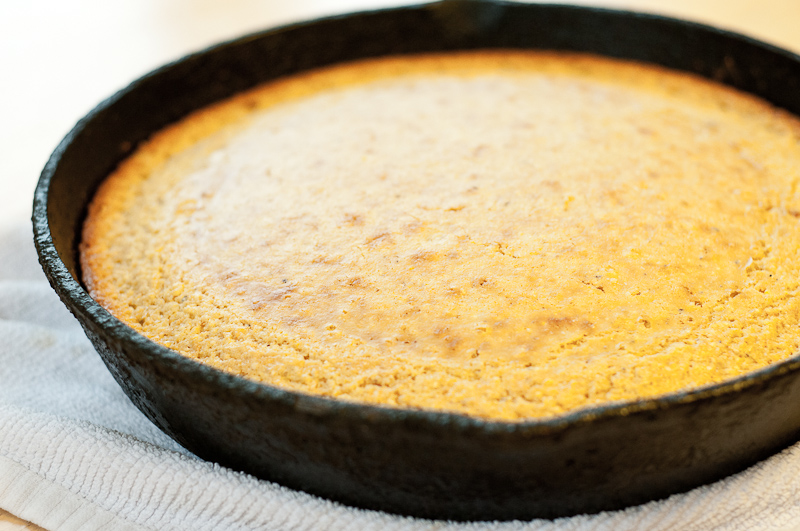 Cornbread flavored with brown butter
Since we talked about vegetarian chili last week, I've got to hook you up with the best cornbread recipe ever to go with it. It is moist without being cake-like with an intense corn flavor. The butter is browned before adding it to the batter, a genius trick I learned from The Recipe Girl. That contributes some of the umami flavor that some folks would get using bacon drippings.
For bonus points, you can add a tablespoon of non-fat milk powder to the butter as it is browning. The extra protein will boost the flavor further.
I know you'll be shocked to hear I have opinions about cornbread recipes. I think there are two main axes of variation to be concerned with: the corn to wheat flour ratio and whether you prefer your cornbread plain or with lots of additions (like corn kernels, onions, jalapenos, cheddar, olives and so forth).
I've seen ratios anywhere from 100% corn to only 25% corn. I like anything 50% and above. I want to mostly taste corn, but if you go too far in that direction, the results can be tasty but very crumbly. 50% provides a good balance of moistness without turning into cake. Use the freshest, best quality organic stoneground cornmeal you can find to maximize the flavor. A coarse grind is preferable.
As far as inclusions go, I don't have anything against them on principle. It is just that to me, the pure flavor and texture of cornbread with a big pat of sweet cream butter is so perfect, they seem an unnecessary distraction. But if that is what you like, feel free to fold them into the recipe below just before baking.
Best Cornbread Recipe Ever
Makes one 8×8″ pan, enough for 4 for dinner if you aren't too greedy
Can also be used to make 10 muffins, reduce baking time
A double batch bakes up beautifully in my beloved 12″ cast iron skillet
Vegetarian; not vegan nor gluten-free
1/2 cup unsalted butter (1 stick)
1 tablespoon non-fat milk powder (optional)
2 eggs
1 cup buttermilk or 3/4 cup milk and 1 T. white vinegar (skim milk works ok; you might need a little more milk, but a full cup of milk is too liquid compared to buttermilk)
1 cup coarse, stoneground cornmeal
1 cup all-purpose flour
1/3 cup sugar
1 teaspoon salt
1/2 teaspoon baking soda
Preheat the oven to 375 degrees and butter an 8×8″ pan.
Melt the butter in a small saucepan over medium heat. If using, add the non-fat milk powder and whisk in. Continue cooking about 5-10 minutes until it is turning a light brown and has a delicious, nutty aroma. Do not skim, keep all those browned milk solids.
Whisk together the eggs and buttermilk. Push the butter through a sieve (to break up any clumps of browned bits) into the buttermilk and stir.
Whisk together the dry ingredients in a separate bowl.
Combine the wet and dry ingredients and stir just enough to form a batter. It is ok if there are a few lumps. Avoid overbeating as this could make the cornbread tough.
Pour into the pan and bake about 25 minutes until golden brown and a toothpick inserted in the center comes out dry. (Muffins will take about 18 minutes.)
Serve forth while still hot, with lots of good sweet butter.