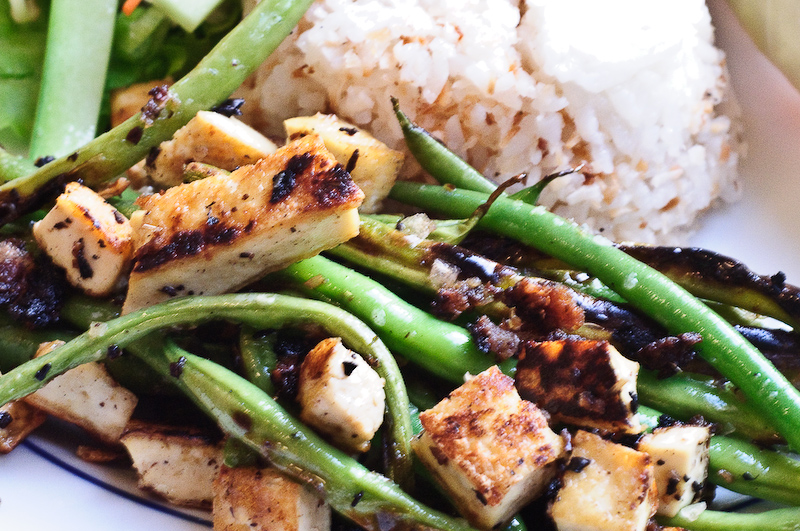 Vietnamese Lemongrass Green Beans and Tofu
More easy, weeknight-accessible goodness. Serve this with the Coconut Rice and a salad with a nice lime-based dressing and you are eating well tonight. The idea here is maximum flavor, provided by substantial quantities of lemongrass, ginger and garlic.
If you haven't worked with lemongrass before, you need to know how to prepare it. Don't worry, it is easy, but do it carefully or you can end up with unpleasant woody bits in your stir-fry. Here's what you do: remove the outer layer of each stem and trim away the bottom 1/4" inch and most of the top, leaving only about a 3" piece that should be tender enough to sink a fingernail into. Now pound it with something heavy to release the flavors. Many cooks use the back edge of their knife, but you'll have to decide if you feel safe doing that. If not, a can of beans should work fine. Once you've given it a good thrashing, finely mince it and you are all set.
When I work with tofu, I almost always fry it separately so it can get some serious surface area in a hot pan and get a little crust going. Then I give it a little me-time off to the side while the rest of the dish cooks, and add it back at the last minute to come back to temperature. Time-saving tip: start the tofu cooking, then use that time to prepare the other ingredients.
Oyster mushrooms would be good instead of the green beans in this dish.You could also add a bit of finely diced yellow bell pepper for more color.
Since I'm vegetarian and don't cook with fish sauce, I use a little bit of soy sauce to provide a bit of background umami.
Vietnamese Lemongrass Green Beans and Tofu
Serves 4
Vegetarian, vegan, and gluten-free
1 lb. extra-firm tofu, patted dry and cut into 1/2" cubes
1 lb. green beans, stem ends trimmed
2 tablespoons vegetable oil
3 cloves garlic, minced or crushed
1 tablespoon peeled and finely grated fresh ginger (a microplane is ideal for this)
2 stalks of lemongrass (prepared as described above)
optional: fresh chili peppers of your choice, minced
1 teaspoon soy sauce
salt
black pepper
In a large skillet or wok over maximum heat, fry the tofu in about half of the oil until it is crispy and brown, stirring occasionally. See picture above. Remove to paper towels and season with salt and black pepper.
Add the remaining oil to the pan, along with the garlic, ginger, lemongrass and chilis (if using). Fry until fragrant, about 30 seconds. Add the green beans and toss thoroughly. Continue to cook, stirring occasionally, until somewhat tender and nice brown spots are developing. If necessary, you can add a bit of water and cover the pan for a couple of minutes to steam them. (Or pre-microwave for 3-4 minutes first – this can be a really helpful technique).
Add the tofu back in, along with the soy sauce and 1/2 teaspoon of salt. Stir, taste and make any final seasoning adjustments, and serve.