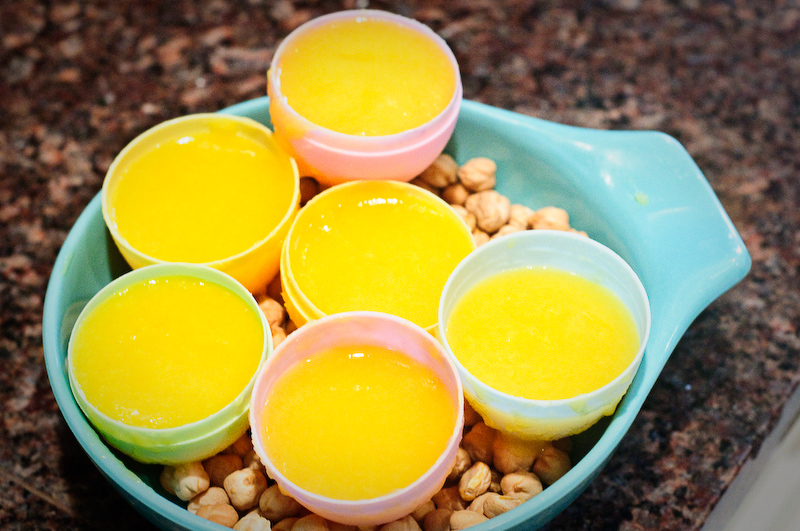 So, when I did the faux inside-out egg post last week, I originally just planned to do it as a dessert recipe. For some reason as I was writing it up, the urge make it look as real as possible and publish it as a joke was irresistible to me. From the comments, I see a few of you believed it or thought it was an unborn egg, etc. (The Japanese video link in the comments was great too.) My apologies if I took you in! Obviously it is hard to tell when all you can do is look at a single picture.
The inside-out egg was actually made from mango (set with agar-agar) and coconut cream, and molded in a plastic easter egg. Quite delicious if you like tropical flavors. I think Stefan made something similar on Top Chef, with panna cotta instead of coconut, and right-side out. And Michel Richard has a tomato and mozzarella version in his amazing Happy in the Kitchen
.
So, can I make it up to you with the recipe?
Follow @michaelnatkin on twitter for more serious and delicious vegetarian recipes. Check out my other most popular recipes, or sign up for our RSS feed so you never miss a post.
"Inside-Out Egg" with Mango and Coconut
Makes 4
Vegetarian, vegan and gluten-free
special equipment: 4 plastic Easter eggs, the kind that split in half
250 ml. smooth, fresh mango puree
1 teaspoon agar-agar powder (not the pre-sweetened kind)
1 can full-fat coconut milk, not shaken
200 ml water
1 teaspoon agar-agar powder
Set up the molds like you see above. I used chickpeas to balance them, but rice or whatever will hold them upright is fine. Spray the insides with cooking spray (aka pan release).
Bring the mango puree to a boil and sprinkle in the agar. Whisk for 20 seconds, then turn off the heat. Whisk for another 30 seconds, then pour into the molds, and seal them. Place in the refrigerator for 15 minutes. (Agar sets really fast!)
Without shaking, open the can of coconut milk and spoon out the creamy part at the top. Reserve the  liquid part for another recipe.
Unmold the top half of each egg.
Carefully spoon out a hollow in all 8 halves and fill just below level with the coconut cream.
Bring the second part of the water and agar to a boil, whisk and quickly brush it on the mango rim of both halves of each egg. Put a top half on each bottom and press gently to allow to bond. Refrigerate for 15 more minutes.
Remove from the molds and serve.