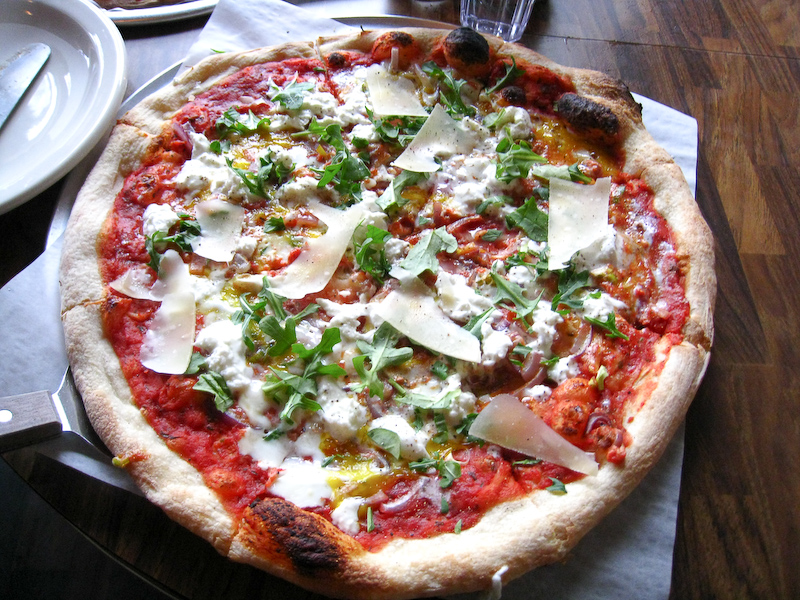 My favorite pie at Flyinq Squirrel Pizza Company
So let me stipulate upfront: I'm a friend of Bill Coury, the owner of Flying Squirrel Pizza Company. Bill worked in the Starbucks Hear Music division for a long time, but he always had this dream of opening a pizza place. And boy has he done it right. He spent months remodeling a store in the Seward Park neighborhood of Seattle into an attractive, family-friendly pizza place that just happens to be turning out some of the most interesting & tasty pies I've seen.
Let's go ahead with the bombshell. The pizza you see above has an egg on it. That's right, it is the #8, with a free-range egg, buffalo mozzarella, arugula and red onion. The egg is added about halfway through the baking, then when it reaches an "over-easy" consistency, the cooks spread it around the pie. I know I kid about eggs sometimes, but this is no joke. If you are the sort of person that likes to mop up an egg yolk with their toast (or on bi bim bap), you must order this. This is genius. I would personally like one delivered hot to me each evening about 10 PM.
And if you don't roll that way, no problem, FSPC will hook you up with much more traditional pizzas, both veg friendly and meaty. Try the Maggie for their spin on a Margherita, which was also killer.
I loved the crust. It is very thin, has a complex taste which I assume has to do with proper aging of the dough, and somehow magically doesn't get soggy from the tomato sauce. I may have to grill Bill about his secrets. It comes out with just those perfect few extra-dark-but-not-quite burned spots for extra flavor.
They take a lot of pride in using local ingredients and making most everything from scratch. Seasonal soups and salads are always on the menu. The night we were there, green garlic had just arrived and they were celebrating with a green garlic soup, and the option of green garlic added to any pizza for $1.
I'm not even going into the whole mix tape thing.