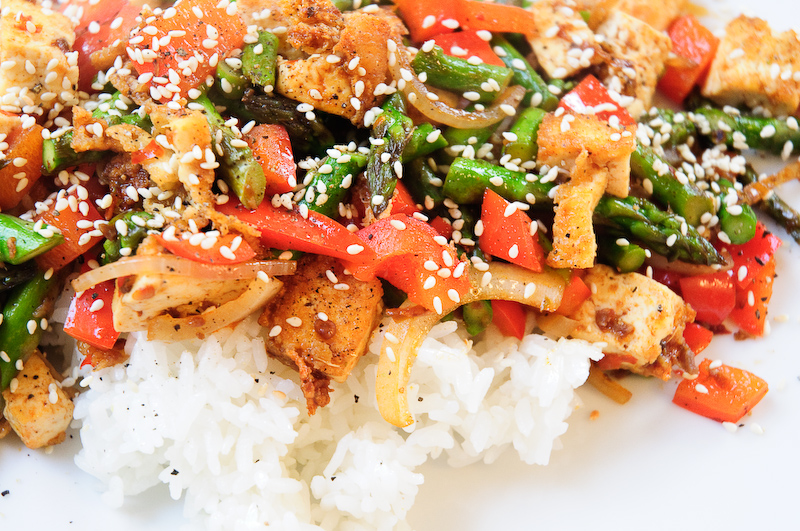 Asparagus and Tofu with Guilin Chili Sauce
I love to stir-fry asparagus. I most often serve it in a Chinese fermented black bean sauce. The slightly funky saltiness of the preserved beans seems to be a perfect complement to the sweet-bitter crispness of the vegetable.
I recently picked up my first jar of Guilin Chili Sauce, and as soon as I tasted it, I knew it would also pair well with asparagus. It too contains fermented soybeans, but combined with a very hot, fruity chili pepper. I'm pretty sure this stuff has earned a regular spot in my refrigerator.
I guess my wife might say that isn't a very high bar! I've got the whole door full of bottles of condiments and sauce components. I can't tell you how many delicious things I've found by going out on a limb to buy sauces at Asian markets without any real idea of what they were beyond that the ingredients were vegetarian. Most of these things are only a few bucks, so there isn't much risk.
So reading up on Wikipedia, Guilin is a city in the south of China, and this chili sauce is famous stuff. It is considered one of the city's three treasures, along with a rice liquor and pickled tofu. Wow, a city famous for three vegetarian specialties! I like it. Anyone from Guilin want to tell us more about it? For example Is the sauce typically prepared at home or bought at a store?
The brand I found is Lee Kum Kee, which is available at Uwajimaya for those of you in the Seattle area, or you can find it on Amazon
. For a rough approximation, you could substitute half regular black-bean paste and half red chili paste (like a sambal oelek or sriracha) and add some garlic and a bit of sugar.
Asparagus and Tofu with Guilin Chili Sauce
Serves 4 as a main course with rice
Vegetarian and vegan; the sauce is not gluten free
1 pound extra-firm tofu, patted dry and cut into medium dice
2 tablespoons vegetable oil
1 teaspoon fresh ginger, peeled and minced
1 large bunch asparagus, stems trimmed, cut into 1" segments
1 red bell pepper, medium dice
2 tablespoons Guilin Chili Sauce (if you like it 3-stars hot, more if you are a 5-star person), mixed with 1/4 cup water
1 tablespoon toasted sesame seeds
Heat a wok or your largest skillet over a very high flame. Add the oil and immediately toss in the tofu, watching out for splatters. Fry, tossing occasionally until well browned on all sides. Season with salt and remove to paper towels, leaving as much oil behind as possible.
Add the ginger and stir-fry for 15 seconds.
Add the asparagus and stir-fry for 1 minute (or more if thick).
Add the red pepper and stir-fry for about 1 more minute, until both vegetables are nearly tender.
Add the sauce, return the tofu, and stir-fry for 30 more seconds to combine.
Serve immediately over rice, garnished with the toasted sesame seeds.