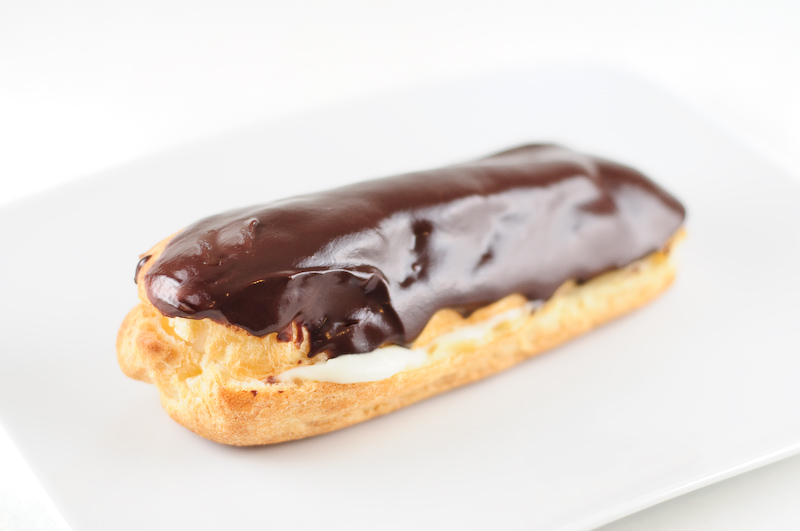 Chocolate eclair
When I asked my wife what I should make for a Valentine's day dessert, there was no hesitation. "Eclairs", said she, and far be it from me to disappoint. For some reason I've never made them before, though I like them very much, so I was excited for the challenge.
My habit when looking for recipes lately is to search on TasteSpotting, foodgawker and Photograzing, because I can get an immediate visual indication of whether the results look delicious.
When I searched for eclairs, I immediately saw that the Daring Bakers had done them, and most had followed this Pierre Herme recipe. It sounded fantastic, but I thought the instructions for the glaze seemed a bit overcomplicated, requiring you to first make a chocolate sauce and then turn that into a chocolate glaze. I imagine that relates more to a commercial setting where the chocolate sauce is already on hand as a component.
Then I remembered that the Tartine
cookbook has an eclair recipe. Everything I've made from this book has been spectacular. Comparing, I saw that the choux paste recipe is almost identical, except Tartine uses nonfat instead of whole milk, and a full teaspoon of sugar. I'm guessing the nonfat milk provides more flavor because of the higher percentage of milk solids that can brown.
The Tartine glaze was drastically simpler though. It is just a very firm ganache with some corn syrup for shine. Here's the recipe, lightly adapted: 4 oz. bittersweet chocolate, chopped (I used 71% Scharffen-Berger), 1/2 cup heavy cream, 1 tablespoon light corn syrup. Bring the cream to a simmer in a large bowl in the microwave. Remove from the microwave, stir in the chocolate and corn syrup, let sit for a couple minutes and stir again until everything is melted and smooth. Let cool until barely warm and then dip the tops of the eclairs in it.
I also used the Tartine vanilla bean pastry cream, but you could use any pastry cream recipe that you like, either chocolate or vanilla or crazier stuff if you are so inclined. I saw a matcha filling that I bet would be amazing. I'd recommend making the pastry cream a day or two in advance, as it needs to be very cold for filling, and it gives you one less thing to do the day you want to serve the eclairs. I opted for the slice-and-fill approach rather than trying to pipe in from a hole in the end.
For absolute best-ness, fill the eclairs and put them in the refrigerator for just 20 minutes or so to allow the ganache to set up, then devour. They will hold for a few hours in the fridge, but any more than that and sogginess is a risk. Less risk if you store them unwrapped or loosely wrapped – sweaty condensation is the enemy of your pastry shell.
Other tips: if you don't have the right pastry tip for piping the choux paste, just use a zip-loc type bag and cut off a corner. I found that about a 1 inch diagonal cut will give you a nice fatty eclair. And be sure and make plenty of pastry cream, you don't want to have to skimp on the filling.
Net result: delicious! Not bad at all for a first try, and I want to make them again. Happy wife, happy brother and sister-in-law-to-be, Happy Valentine's Day!