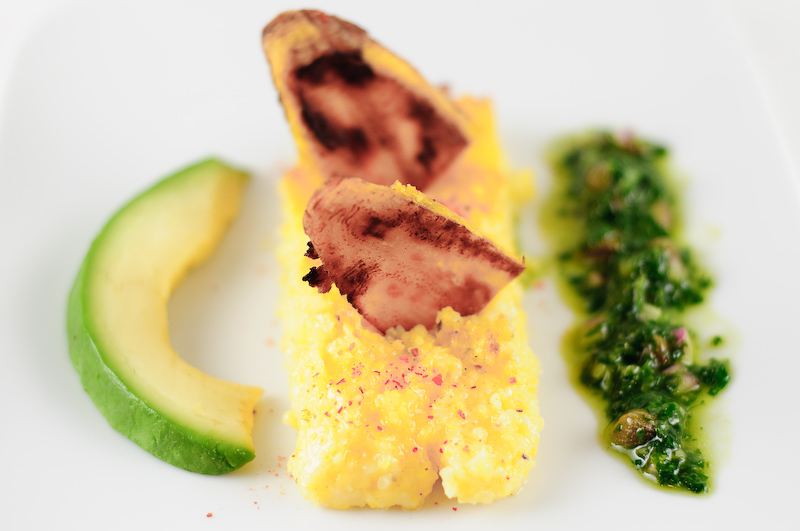 Chimichurri sauce served with polenta and tostones
Chimichurri (also spelled chimmichurri) is the quintessential sauce of Argentina, and deserves to be better known in the northerly climes. It is somewhat like an Italian pesto, but made from parsley, and without the cheese or nuts to thicken it. Like pesto, it comes together in a food processor with just a few minutes of work.
In South America, chimichurri is usually served with steak, but you can definitely make a home for it in a vegetarian kitchen as well. It has a strong, herbaceous bite that pairs well with the smokiness of grilled vegetables, cuts the richness of fried foods, or amps up the flavor of a mild dish.
In the picture above, you can see I served the chimichurri with mild Argentinian polenta
, rich little tostones (twice-fried plantain) and avocado.
Generally speaking, the essential ingredients of a chimichurri recipe are parsley, olive oil, garlic, onion, salt and pepper and something acidic. I chose to embellish this version by including cilantro, red onion, a bit of sherry vinegar, and a few capers. Other common variations add chili flakes, paprika, or dried oregano. Once you establish the basic flavor profile, there is plenty of room to tweak it to match your taste and what you are serving it with. (I apologize in advance to any chimichurri purists who feel that such variations are heresy, and remind you that the recipe isn't 100% standardized even in its homelands!)
| | | |
| --- | --- | --- |
| Chimichurri – Argentine Parsley Sauce – Recipe | | |
Recipe Type:
Sauce; vegetarian, vegan, and gluten-free
Author:
Ingredients
1/3 cup extra-virgin olive oil
1 garlic clove, peeled and chopped fine or pressed
1 cup well-rinsed parsley leaves, lightly packed
1 cup well-rinsed cilantro leaves, lightly packed
1 teaspoon salt
1/4 teaspoon freshly ground black pepper
1 tablespoon sherry vinegar
1/4 cup red onion, minced (or add to food processor before herbs)
1 tablespoon capers, rinsed
Instructions
In a small food processor, combine the olive oil and garlic and run until the garlic is well distributed. If you don't feel like mincing the onion by hand, you can add it in chunks now, but it won't look as nice. If you don't have a small food processor, you might need to make a double batch as a full size machine probably won't work well on this small quantity.
Add the parsley, cilantro, salt, pepper and vinegar and process until minced but with still a bit of texture left in the leaves.
Remove from the food processor and mix in the onions and capers.
Let rest at least 30 minutes, then taste and adjust salt, pepper and vinegar as needed.