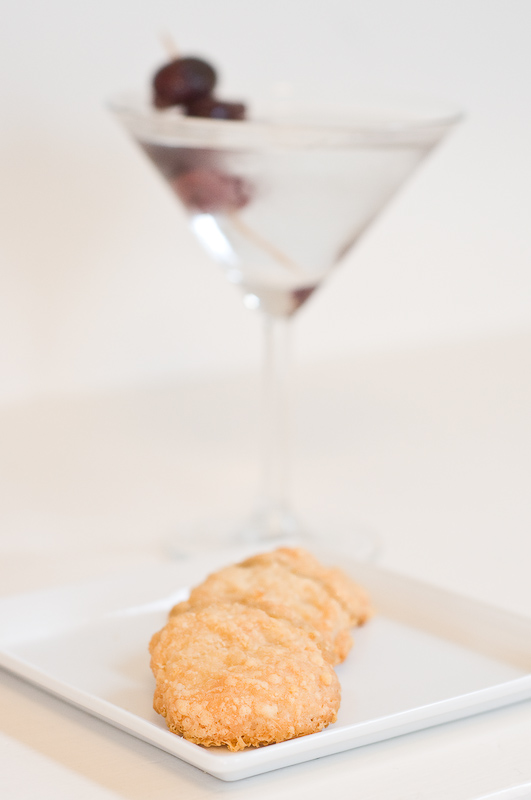 Boyikos in their natural habitat
Savory, crispy, flaky, cheesy. Boyikos are little cheese biscuits or crackers that every good Sephardic grandmother makes. You should learn how too, because they are quick and easy, and I don't think a Martini ever had a better companion. Bring these to a potluck and I bet you come home with an empty plate.
[Hey, StumbleUpon visitors, I'm glad you are here! Please also check out some of the other most popular recipes on the site, and please give them a Thumbs Up if they appeal to you.]
As with any traditional food, there are variations in the name (e.g. boyos, boyos de rayo), and each family has their own special twist. Over at Sephardic Food, Janet rolls and cuts them like a biscuits and adds sesame seeds, while our Noni forms them by hand and presses them with the tines of a fork, like a peanut butter cookie.
You can make them with just about any hard grating type cheese. Pecorino romano is our tradition, but parmesan or even manchego work well too.
Boyikos
Vegetarian; not vegan or gluten-free
Makes about 4 dozen tiny biscuits
3 cups finely grated pecorino romano (2 for dough, 1 for rolling)
1 cup canola oil or other neutral tasting vegetable oil
1/2 cup ice water
2 cups all purpose flour
salt
Preheat oven to 400 F and put a rack in the middle of the oven.  Line a cookie sheet with a silpat or parchment paper
Combine 2 cups of the cheese, the oil and the ice water.
Stir in the flour gradually, until you have a dough that holds together but is still somewhat soft. You might need a little more or less than 2 cups. It should be firm enough to hold a mark if you press it with the tines of a fork.
Taste and add a bit of salt if you think it is needed.
To form the biscuits, grab a small piece of dough (less than 2 teaspoons), form it into a ball, roll it in the remaining cheese, roll in your hand a little more, then flatten on the baking sheet. They should be about 1″ in diameter, and about 1/4″ thick.
Press each biscuit with the tines of a fork for decoration.
Bake until golden brown, about 15 minutes. You don't want them to get real dark, but they should definitely be golden. Let cool for a couple of minutes and then remove to a wire rack. Cool the cookie sheet before making another batch.