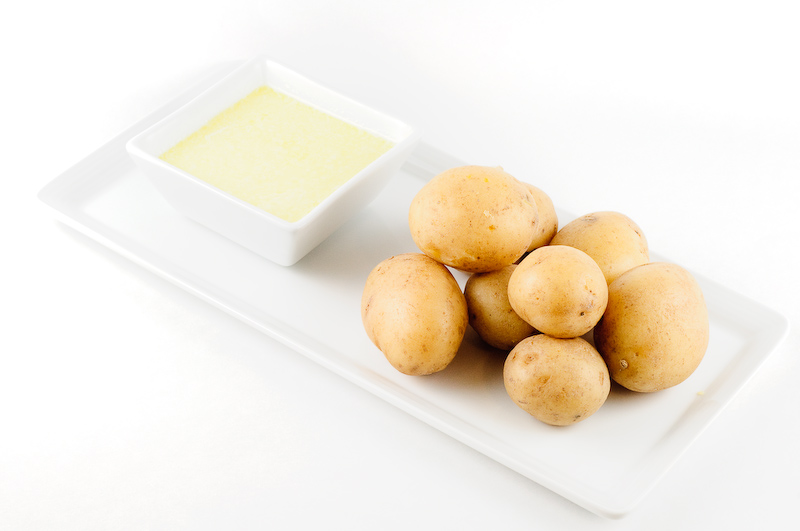 Potatoes and alioli
Garlic, garlic and more garlic. Eat this before an episode of True Blood
and you'll sleep better. But maybe don't serve it on a first date.
Alioli is a close Spanish cousin to the French aioli. It is a simple home-made mayonnaise which comes together in just a few minutes. You can serve it with any sort of vegetable, raw or cooked. It is also delicious with a slab of cold tortilla (Spanish frittata) on crusty bread.
Alioli goes famously with potatoes, whether roasted, pan-fried, or simply boiled in their jackets as I did. Your guests can simply smash a potato lightly on their plate and drizzle on a bit of the sauce. You can make it at the last minute, or up to a day in advance (refrigerating of course). The garlic flavor becomes even more intense but rounded overnight.
Like any homemade mayonnaise, it is made with raw eggs. Use your own judgement whether it is safe to eat. You may be able to find pasteurized whole eggs at some stores, which would make them safer. I personally wouldn't serve it to the very young or old, or anyone with a compromised immune system, but I happily eat it myself. I eat cookie dough too. I guess I just live on the edge like that.
Did I mention this is really garlicky and delicious?
Alioli (Garlicky Spanish Mayonnaise)
Makes 1.5 cups
Vegetarian and gluten-free; not vegan
4 cloves garlic
2 egg yolks
1.5 tablespoons lemon juice or sherry vinegar
1 cup extra-virgin olive oil (Spanish if possible)
salt to taste
Mince the garlic to a fine paste and put it in the blender with the egg yolks and lemon juice and 1.5 teaspoons of salt.
Whiz for a minute.
Remove the little hole in the top of the blender and drizzle in the olive oil slowly, allowing it to emulsify. You'll know it is working if it turns thick and opaque.
Taste and add more salt or lemon juice if needed.