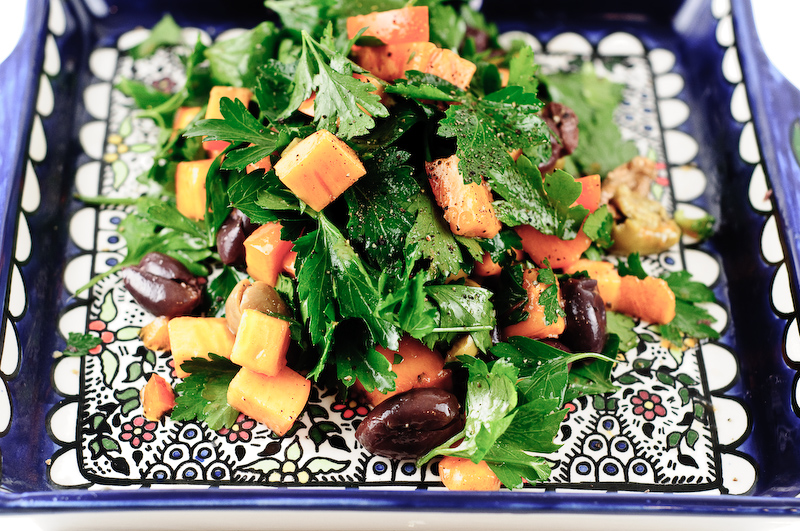 Salad of parsley, persimmon and black olives
Persimmons are excellent right now. I was casting about for something refreshing and vaguely Spanish to serve with this rich dish of fideos, and hit on the idea of using persimmons in a salad that I usually make with blood oranges later in the winter.
The two common varieties of persimmon are Fuyus, which are rather squat, and Hachiyas, which are more oblong. Fuyus are eaten crisp, while Hachiyas are inedibly astringent until they are as soft as pudding. So for this salad you will only want to use Fuyu persimmons. The flavor is moderately sweet and flowery, with a slight tang and muskiness, somewhat similar to mango. You generally have to peel the fruit unless the skin is surprisingly tender. (By the way, these Zyliss Soft Skin Peeler
are incredible for peeling fruit including tomatoes).
It might seem strange to use parsley as the "lettuce" in a salad, but I think you will like it. It isn't the sort of thing you eat a huge plate of, it is more of an accompaniment to cleanse the palate. You want to throw some fresh mint or basil in there? No hard feelings. A little thinly sliced red onion or scallion would be welcome too.
Persimmon, Parsley and Olive Salad
Serves 4 as a side dish
Vegetarian, vegan, and gluten-free
1 bunch of flat leaf Italian parsley (curly wouldn't be good here), cleaned and thoroughly dried, only leaves and very thin stems
2 Fuyu persimmons, peeled if needed, medium dice
1 cup flavorful black olives, pitted
extra-virgin olive oil
sherry vinegar
salt (maybe not needed if the olives are very salty)
fresh-ground black pepper
Everything can be prepared in advance, but don't toss until you are ready to serve as it will all wilt. It takes less than a minute to do the final assembly.
Toss together the parsley, persimmon and olives.
Drizzle in olive oil and toss to coat lightly, then a tablespoon or two of vinegar and toss again, and finally salt and pepper. Taste and adjust the seasonings. Mound on a platter or distribute on individual plates.