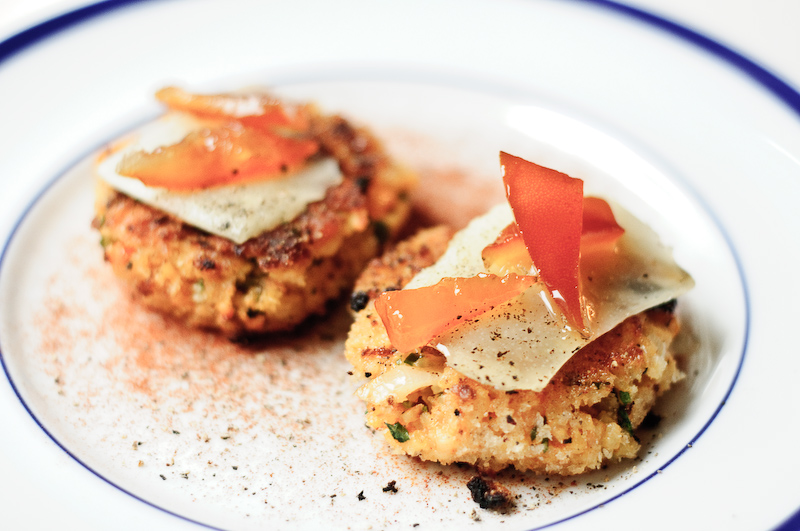 Paella Cakes with Manchego and Candied Seville Orange Peel
I made these paella cakes as the vegetarian entree for our big family Thanksgiving, and they were… fine. They didn't hold up so well to reheating, and I didn't have all of the flavor components in place. I had some of the rice left at home and made them again the next day with much more success. This time I ditched the fruit-vinegar reduction, and added a sprinkle of smoked paprika and cinnamon, a slice of melting manchego, and candied Seville orange peel.
I learned about the combination of smoked paprika (pimenton) and cinnamon from Mem, who writes Vegetarian Duck, when he commented on my crispy quesadilla recipe. The combination sounded surprising to me, but when I tried it, I was blown away. Rather than tasting like two spices, it comes across as a married, individual flavor. I use a proportion of around 3:1 paprika:cinammon in savory dishes, and the reverse in sweets. I'm enamored, and putting it on everything.
Technically, paella cake is a pretty sketchy designation, but it conveys the idea of a Spanish variety of rice flavored with saffron. I didn't make a sofrito because I wasn't really looking for a tomatoey flavor here, but feel free to go that route. Rather than creating the crispy crust (soccarat) while initially cooking the rice, we make it in the frying pan.
Paella Cakes with Manchego and Candied Seville Orange Peel
Makes 12 cakes, serving 4-6 as a main, or 8-12 as an appetizer
Vegetarian; gluten-free if you omit the breadcrumbs; not vegan
1/4 cup extra virgin olive oil
1/2 white onion, small dice
1/2 red bell pepper, small dice
2 cups short-grained Spanish rice (a type sold for paella; in a pinch you could use an Italian variety like arborio)
3.5 cups vegetable broth or water
1 tablespoon smoked paprika
1 big pinch saffron
2 eggs
2 cups breadcrumbs (panko is fine)
vegetable oil for pan frying
12 slices manchego cheese
3 teaspoons smoked paprika mixed with 1 teaspoon cinammon
candied Seville orange peel or high quality marmalade
fresh ground black pepper
sea salt
In a large pot with a tight fitting lid, heat the olive oil over a high flame. Saute the onion and bell pepper for 3 minutes. Add the rice and saute for 2 minutes, until slightly translucent.
Add the vegetable broth or water, 1 tablespoon of smoked paprika (taste first; if yours is hot, adjust down unless you like that sort of thing), and the saffron. If the broth isn't salty, add 1 tablespoon of salt. Bring to a boil, cover, and reduce to bare simmer.
Cook until all of the water is absorbed. Taste a few grains. If they aren't fully cooked, add a bit more water. They should have just a hint of toothsomeosity left, we definitely aren't looking for mushy.
Allow the rice to cool. If you are in a hurry, spread it on a sheet tray and refrigerate.
Taste the rice and adjust seasoning. Beat the eggs and mix them in. You should have a mixture that you can just barely squeeze into a patty in your hand. Put the breadcrumbs in a flat dish.
Heat a large skillet or griddle over medium heat. Add a good amount of oil to the pan so the patties will crisp up. Working quickly, grab a handful of rice, form it into a rough patty, press it into the breadcrumbs on each side and add to the skillet. Gently shape into a nice cake, not too thick – we want the eggs to set inside.
Fry until quite crispy and brown on one side, then flip and top immediately with a piece of manchego. Fry until the other side is also crispy and remove to paper towels.
To serve, dust your plates with the paprika/cinammon, add the patty(s), and top with about 1 teaspoon of the orange peel, some sea salt, and fresh ground pepper.