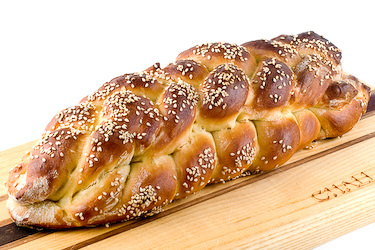 Cleverly braided challah
The year draws towards a close with lots of family coming and going, and Hannukah to celebrate. There have been latkes and more to come, but I haven't baked challah in a while. The snowy streets gave us a good reason to make our own instead of buying from one of Seattle's excellent bakeries.
I hope to publish a recipe of my own at some point, but for now I can't do better than to point you to this fine one from the New York Times via I Like To Cook.
The best thing I learned from it was this clever braid, for those of us far too dexterity challenged to do a 6-strand braid ourselves. The trick is simply to divide the dough into two parts, one twice as large as the other. Then divide each part into three ropes, makes a normal three-strand braid, and stack the smaller one on top of the larger. It bakes into this somewhat snazzy looking loaf you see above. I could do even better; this one involved some 3-year-old "assistance".
A couple of tips on that recipe: the saffron adds a bit of extra yellow color but you could easily omit it. I'm thinking they didn't use a lot of saffron in the shtetls. For my taste, I'd increase the sugar just a bit. Also, unlike many breads that enjoy retarding the dough in the refrigerator overnight, that didn't benefit this challah. Next time I'd follow the recommended rises, and be sure to proof the yeast.
Happy holidays everybody!