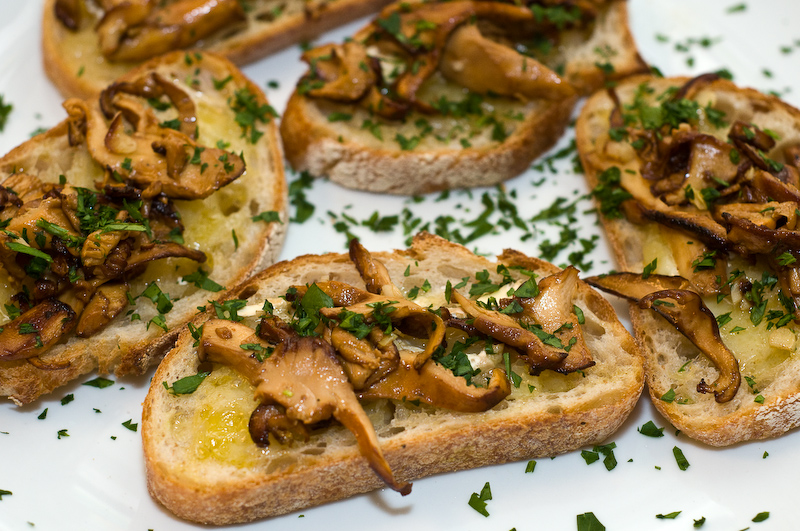 Chanterelle and Brie Bruschetta
My last few forays with chanterelle mushrooms have combined them with other big flavors. For this appetizer, I wanted to highlight the delicious, earthy, sweet, complex fungii themselves, adding mainly just some melted brie for richness. This would make a rather decadent appetizer to pass at a holiday party, preferably with an equally earthy red wine.
When shopping for chanterelles, you want them to be neither dried out, woody, nor slimy. Size doesn't really matter. It can take some work to find the best specimens in a bin. Store them in a paper bag in the refrigerator and use within a couple of days. To clean them, I like to just moisten a dishrag and use it to brush off any clinging dirt and pine needles.
Bruschetta With Chanterelles and Brie
Makes 8 pieces
Vegetarian; not vegan or gluten-free
4 tablespoons sweet butter
1 pound chanterelle mushrooms, thoroughly cleaned (see note above) and sliced
1/4 cup sherry
8 slices of baguette (on the diagonal so they are a little bigger)
1/2 cup brie or other triple-cream cheese (no rind)
sea salt
finely chopped parsley
Melt the butter in a good sized skillet over medium high heat (just short of smoking). Add the mushrooms and 1 teaspoon of salt. Stir to coat evenly with butter and then saute, shaking only occasionally for 7-10 minutes until all of the liquid is gone and the mushrooms are browning quite nicely. Remove from the heat, add the sherry, return to the heat, scrape the bottom of the pan to get all the flavorful bits, and saute just long enough to evaporate the liquid.
You should definitely taste a mushroom or two now! You need to make sure they are really, really tasty and properly seasoned. If you aren't sure, you better eat some more. That's ok, your guests probably aren't that hungry.
While the mushrooms are cooking, toast the bread lightly. Then spread on the brie and return to the toaster to melt.
To serve, divide the mushrooms among the pieces of toast, sprinkle on a few more grains of crunchy salt, some black pepper, and the parsley.