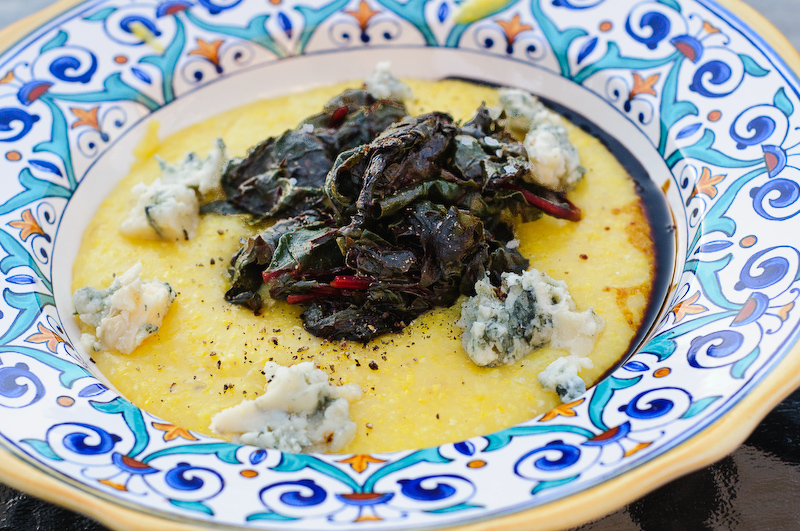 As fall closes in on winter, the cold weather greens and warm, filling grains figure more in our cooking. A lazy weekend day meant I had time to make polenta the slow way instead of using the quick cooking (but not instant) de La Estancia brand. I followed Marcella Hazan's "no-stir" method, which really isn't no-stir, but definitely low maintenance, you just need to have an hour. Both the quick-cooking and slow-and-low methods make delicious polenta, but they are very different. The de la Estancia is bright yellow and tastes more of fresh corn, with a slightly rougher texture. Hazan's technique leads to polenta which is very mellow, creamy, soft and soothing.
Whenever I make polenta, I almost always double the batch and chill the rest on a oiled baking sheet. The next day I cut it into squares and cook it in a skillet with a bit of oil. The fried pieces with soft insides are delicious with a simple tomato sauce. The recipe below is for four, but will work fine to double or triple as long as you use a big enough pot.
The polenta is definitely the main event in a dish like this, and we don't want to overwhelm it. Strong flavors are fine but they should be in moderate amounts. I'd say the amount of blue cheese in the picture above is too much by half. I added just a few slivers of garlic and a pinch of chili flakes to the chard, and a drizzle of good balsamic on the side to round out the dish.
Polenta With Sauteed Chard and Gorgonzola
Serves 4
Vegetarian and gluten-free; vegan if you omit the cheese
7 cups water
1 tablespoon salt
1 2/3 cup polenta (medium to coarse grained yellow cornmeal)
1/2 cup grated parmesan
1 tablespoon olive oil
2 cloves garlic, sliced thin
optional: 1/4 teaspoon chili flakes
1 large bunch Swiss chard (any color is fine), leaves pulled from stems, washed, and chopped coarsely
6 tablespoons gorgonzola dolce or other blue cheese
Maldon (aka the world's greatest salt) or other finishing salt
black pepper
optional: balsamico tradizionale
Bring water and 1 tablespoon of salt to a boil. Whisk the polenta in a thin stream into the water, stir for 2 minutes being sure to reach the bottom of the pot, reduce the heat to a simmer, and cover. Every ten minutes, uncover the pot, stir for whole 1 minute, and re-cover until 40 minutes have elapsed. Then uncover and cook five more minutes, and stir in the grated parmesan. Turn off the heat.
Heat the oil in a large skillet over a medium-high flame. When it is shimmering, add the garlic and optional chili flakes. Fry for 10 seconds, then add the chard and 1 teaspoon of salt. Saute for a minute, add a little water, cover, and steam until thoroughly tender, about 7 minutes. Remove top and allow water to evaporate.
To serve, ladle 1/4 of the polenta into a bowl. Top with 1/4 of the chard and 1.5 tablespoons of gorgonzola. Finish with salt, pepper and optionally a drizzle of balsamico.