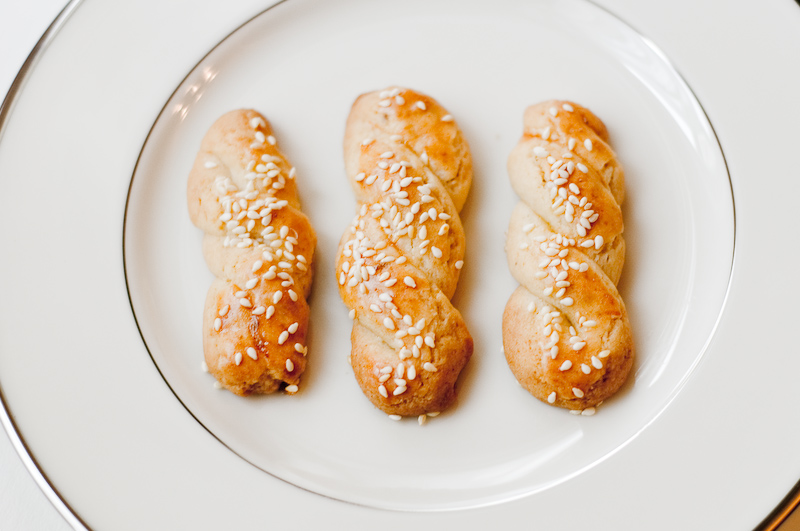 Koulourakis (Greek cookies with cardamom)
For those of you who aren't familiar with her work (most famously Strangers With Candy), Amy Sedaris is crazy. Bug f'ing nuts. Mad as a hatter.
"I can't write good, but I can cook even better" – Amy Sedaris
While most of us who came of age in the late 60's and early 70's raced away from the aesthetics and values of that time, Ms. Sedaris wholeheartedly embraces them. Her genius is that while she adores the avocado-colored wallpaper and ham salads, she really thrives on the dark side of that era – overwhelming social pressure to be a perfect housewife, with the bottles of white Zinfandel under the kitchen sink and mother's little helper in the medicine cabinet.
Munchies:
– Toasted frozen waffles with ice cream between them
– Mozzarella sticks dipped in Cool Whip
– Crushed pretzels with cream cheese on toast
Your first impression of I Like You: Hospitality Under the Influence
might be that it is a joke cookbook. Nearly every page is festooned with hilarious photos of food and entertaining, as if Life Magazine from 1968 ran a special issue with the entire art department either drunk or made up of 7 year olds, or both.
But there is more here than meets the eye. Virtually every one of the hundreds of recipes in the book are legitimate, edible, and often delicious. This is especially the case for Greek recipes, which is the Sedaris family heritage. Who wouldn't like Arty Sarayiote's Koulouraki (Greek Cookie Twists), or spaghetti with thick Greek yogurt, pine nuts and Kefalotiri cheese, not to mention cocktails like the Salty Dog (vodka and grapefruit juice with a salted rim).
"I recently stabbed myself in the nose with a 3-in-1 tool and I didn't have an ice bag. I was forced to quickly create one by filling a dish towel with ice, cutting up a pair of pantyhose, and tying together the loose ends to secure the ice on my face, bandit style. The one plus of my makeshift ice bag was that because it was fastened to my face, I could walk around with it and finish my scraping."
After introductory remarks on the art of hospitality, the book is divided into short chapters based on different entertainment scenarios (Entertaining The Elderly, Ladies' Night, Lumberjack Brunch and so on). Amidst the hilarious headnotes you will find very practical advice, like this handy chart of guest combinations to avoid:
astrologer and astronomer
director and out-of-work actor
fraternity brother and anyone else
And let's not forget the bonus chapter, where she demonstrates in great photographic detail how to put on pantyhose.
So should you buy this book, for yourself or as a gift? I'd say so if you can answer yes to any of the following questions:
You already think Amy Sedaris or her brother David are hilarious.
You grew up in the 1960s or 70s, or have an unnatural fascination with them.
You love kitschy American food.
You have "gone straight" and are pretending to be an upstanding member of suburbia, but actually long for the days of getting stoned in the shag-carpet and wood-paneled basement.
Here is the recipe for the Greek koulourakia cookies, which are quite delicious. They are similar to the biscocos that my family makes, but a bit fluffier and with a hit of cardamom. Reminiscent of a sable cookie. Very nice with a cup of coffee. I've added a few italicized notes to the recipe.
Arty Sarayiote's Koulourakia (Greek Cookie Twists)
From I Like You: Hospitality Under the Influence, by Amy Sedaris
1 lb. sweet butter
1 to 1.5 cups sugar
2 eggs, separated
2 teaspoons vanilla extract
1/4 teaspoon cardamom [ed: well worth grinding your own in a mortar and pestle; can use 1/2 teaspoon if you like cardamom a lot]
6 to 7 cups flour [ed: I'd go for the 7 and use half pastry flour to keep them tender]
2 teaspoons baking powder
1/2 pint heavy cream
sesame seeds
Preheat oven to 350 F.
Beat butter and sugar until light and fluffy. Add egg yolks, vanilla, cardamom.
Sift flour and baking powder together. Add to the butter and sugar mixture, along with the cream and mix well.
Shape by taking a tablespoon or two of dough and rolling into 7″ ropes. Fold the rope in half and twist together. [ed note: if the dough is too sticky, put it in the refrigerator four 30 minutes or so before shaping]
Place the koulourakia on a foil-lined cookie sheet, brush with egg whites, top with sesame seeds, and bake 25 minutes or until light brown. [ed: light brown for a cakier cookie, dark brown for crunchier; I'd use a silpat, not foil]