Looks like we got us a little street food revolution going on around here in Seattle. Not an easy task with the dreary weather, but even when it is cold & wet we'll go outside for something delicious. Flair Taco, operating out of a classic taco truck at the corner of 36th and Phinney, is the latest addition to the lineup, and they are putting out some very tasty Mexican favorites.
I've always loved taco trucks, but they don't usually love me back with many veggie options. Flair offers two vegetarian fillings: grilled vegetables and tofu adobado, either of which can live in tacos ($1.50, pic above) or tortas ($5.00, below).
The tacos are classic Mexico City style, just two nice soft corn tortillas, not overflowing with so much filling that you can't pick them up, and bursting with texture and flavor. Tortas, on the other hand, are bigger Mexican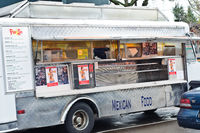 sandwiches on a soft white bun, more filling and soothing. (They are almost the opposite of Vietnamese banh mi, which are made with ultra-crispy French rolls and pickled vegetables.)
The tofu adobado has just a bit of chew and chili bite to it; ask for extra pickled jalapenos or homemade hot sauce if you want to amp it up further.
Flair Taco is the is the creation of Angel Aguilar and Johnny Flair, who developed the recipes and even collaborated with a local bakery to get the torta bread just right. Cleo Petra, also of Burning Hearts Burlesque helps run the truck and the publicity, which explains the highly entertaining posters you can peruse while waiting for your tacos.