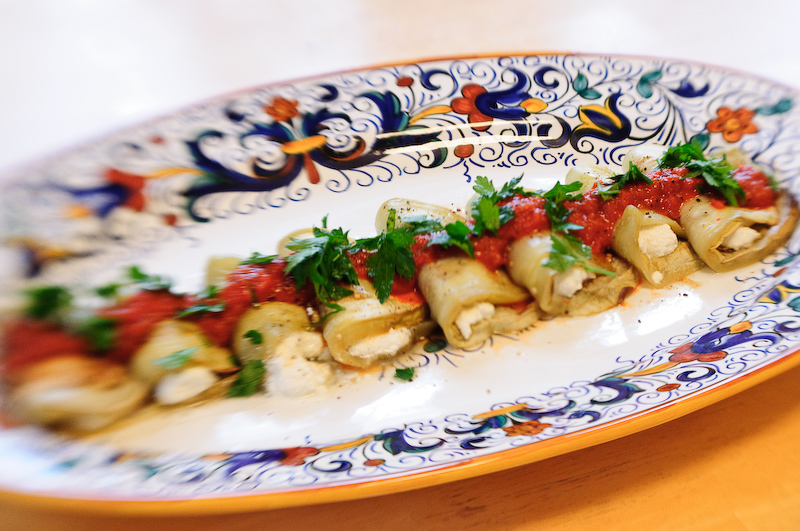 These little rolls of roasted eggplant with a ricotta filling and a simple sauce are minimal work and make a satisfying appetizer or side dish.
I sauced mine with ajvar
, a mild spread of roasted red peppers that is popular throughout the Balkans. Ajvar is fairly easy to find at gourmet grocery stores (or from the Amazon link above). There are also spicy versions if that is how you roll. It has been a favorite of mine for years, because it very inexpensive and has a ton of flavor. I've been known to eat it on eggs, on toast with melted cheese… and by the tablespoonful.
Of course, if you don't have ajvar or don't care for roasted peppers, you could also use a simple, slightly thick tomato sauce. (This five-minute tomato sauce from Heidi has become my favorite).
I wish I'd taken a picture of the eggplant I used for this dish. It was the same size as a typical globe eggplant, but a little flatter and lighter in color. The amazing thing was how dense it was. It felt twice as heavy as you would expect. That is a good characteristic to look for in most vegetables, and especially in eggplant, where it means the flesh will be firm, not spongy.
The dish is simplicity itself. Just peel, slice and roast the eggplant, fill it with good ricotta, and drizzle with the sauce and some parsley. Feta would be another choice if you wanted to continue with the Balkan flavors.
Eggplant and Ricotta Rolls with Ajvar
Serves 4
Vegetarian and gluten-free; not vegan
1 large eggplant, ends trimmed, peeled, and sliced lengthwise into 8 slabs; they should be about 1/3 to 1/2″ thick
2 tablespoons olive oil
1 1/4 cup fresh ricotta
1 jar ajvar or 1 cup thick, flavorful tomato sauce
salt and pepper
flat-leaf parsley (or fresh basil)
Heat oven to 375 degrees. Convection is great if you have it. Oil the eggplant slabs, place on a baking sheet (lined with a Silpat if you like), and lightly salt them. Roast until thoroughly tender, checking every few minutes after 15 minutes or so. There is nothing nastier than undercooked eggplant, so if in doubt, go a little farther.
Season the ricotta with salt and pepper.
Carefully (so they don't rip), transfer the eggplant slices to a serving platter one at a time. Fill each one with about 2 tablespoons of the ricotta mixture and fold in half. Arrange in a line.
Pour a good amount of the ajvar or tomato sauce in a line down the middle of the rolls. Hit the whole thing with a bit more salt, freshly ground black pepper, and a generous amount of parsley. And more extra-virgin olive oil if you are so inclined.
Serve at room temperature.