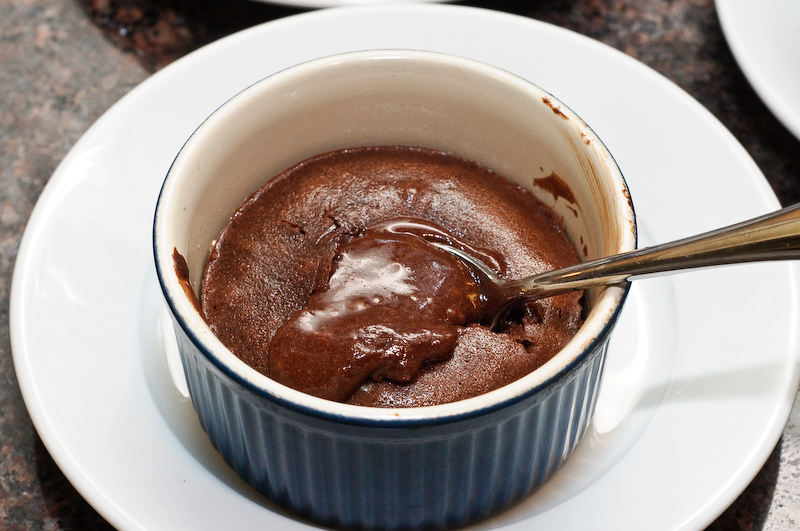 Chocolate-Chili Pudding Cakes From Dessert Express
Lauren Chattman has a mission for her book Dessert Express. She wants something sweet, and she wants it now. She knows that a little treat at the end of a meal makes it satisfying, memorable, special… or just gives her that extra leverage to get the kids to do the chores. Whatever the reason, she's figured out 100 recipes to get that treat on the table in 30 minutes, from desire to first bite.
Chattman doesn't shade the truth when she says 30 minutes. A lot of times when you see "quick and easy" promised, it really means 30 minutes if you had the forethought to make the dough the day before and chill it, or if you have 30 minutes to make it and can wait another hour for it to come out of the oven. None of that here. Any home cook can make and serve anything this book in the allotted time, barely breaking a sweat.
To deliver on her pledge, Chattman has developed a bunch of techniques. Some of them, like spreading a filling on (high quality) store-bought cookies seem kind of pointless to me. But others make great culinary sense, like working in smaller batches, baking in individual serving sizes (mini-muffin tins, ramekins, madeleine pans), pushing temperatures as high as possible, and cooking in non-traditional ways. I've pan-fried cookie dough before (yum!) but I never thought to do it in a waffle iron. Dang!
If you are a regular reader of this blog, you know I don't shy away from "project" recipes, but when I do need something fast before popping in Mad Men, Dessert Express is definitely going to get a workout.
Here is her recipe for chocolate-chili pudding cake (aka lava cake). If you haven't had one before, a pudding cake is just a cake that is intentionally underbaked a bit, so that the outside is fairly dry but the inside is still molten chocolate. See the picture above. Naturally you can omit the chili if that doesn't sound good to you.
Chocolate-Chili Pudding Cakes
From Dessert Express, by Lauren Chattman
Serves 4
Vegetarian; not vegan or gluten-free
1/2 cup butter, cut into pieces plus a bit more for greasing ramekins
6 ounces bittersweet chocolate, chopped
3 large eggs
1/3 cup granulated sugar
1/4 cup all-purpose flour
1/4 teaspoon salt
1/4 teaspoon ground cinnamon
1/4 teaspoon cayenne pepper
Preheat oven to 375 degrees. Grease 4 six-ounce ramekins with butter.
Combine the 1/2 cup butter and the chocolate in a small, microwave-safe bowl. Melt the chocolate in the microwave on high for 30 seconds to 1 minute depending on ther power and size of your microwave. Stir until smooth. Set aside.
Combine the eggs and sugar in a medium bowl and beat on high with an electric mixer until pale yellow and thick, 3 to 5 minutes. Stir in the flour, salt, cinnamon and cayenne. Stir in the chocolate mixture.
Spoon the batter into the prepared ramekins, arrange on a baking sheet, and bake until the cakes are firm around the edges but still loose in the center, about 12 minutes. Do not overbake. Transfer the baking sheet to a wire rack, let cool 5 minutes, and serve.