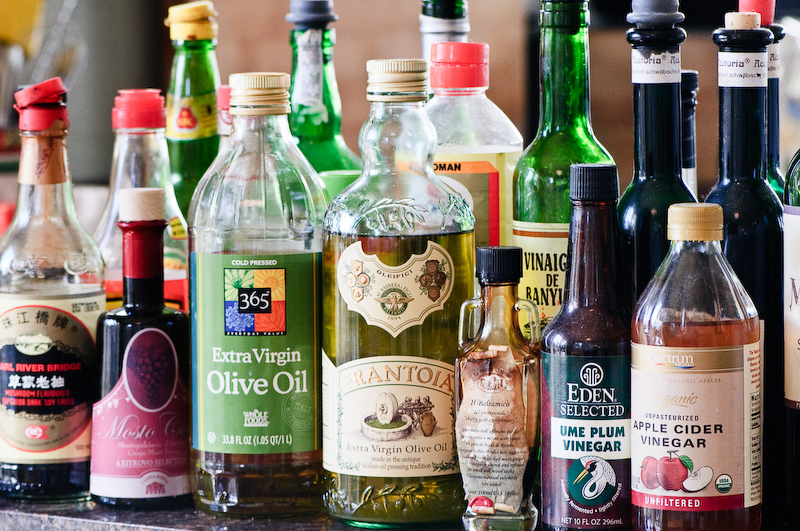 I thought it might be fun to do an occasional post of what I've got stashed away in different parts of the kitchen.
This first batch are the items I keep right on the counter, for sauteeing, deglazing, making quick sauces, and adding little hits of flavor. I put the Frantoia in the middle because that is my favorite high end extra-virgin olive oil. I reach for it for most raw uses, like vinaigrettes or to drizzle on pasta. The Whole Foods house brand is less expensive and I use it for cooking, along with canola oil that I keep in the fridge. (On Molto Mario, he uses Frantoia even to deep fry. Which is nice if you have deep pockets!)
Pride of place also goes to the little bottle of balsamico tradizionale – real balsamic vinegar, syrupy, sweet and incredibly complex, only for drizzling a few precious drops at a time. A recent purchase is the mosto cotto (a.k.a. saba, left of the Whole Food olive oil), which is the cooked grape must that would become balsamic if it was aged, but this stuff is immediately bottled. It is sweet and somewhat thick, but much less intense than the balsamico.
Behind the balsamico you will see a bottle of Banyuls vinegar, which makes beautiful vinaigrettes, and to the right in those tall bottles, artisanal apple and sour cherry vinegars from Acetoria. Rounding out the American / Euro ingredients, we've got apple cider vinegar, a half drunk bottle of red wine, and dry vermouth that I use when I want just a little white wine.
For Asian ingredients I've got quite a few kinds of soy sauce – light, dark, mushroom flavored, sweet (kecap manis), tamari. Cheap mirin I'll never buy again (pretty much just corn syrup, don't waste my time). Rice wine vinegar. Ume plum vinegar. Sake.
I can see this is going to be quite a project! This is just the stuff ready for a quick grab. I hate to think how many cabinets, shelves and drawers full of stuff there are. Sometimes I fantasize about not shopping for anything except vegetables and dairy for awhile and just using up every single staple I have. I wonder how many meals that would be?
Please add a comment below and let me know what stuff you keep close to the stove for last minute cooking. I'm curious to hear what everyone else thinks is essential.