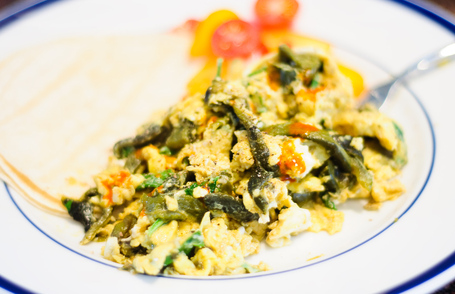 Scrambled eggs with epazote and poblanos
Epazote is an absolutely common, everyday herb in many parts of Mexico, Central and South America, but it is barely known in the United States outside of Latin American communities. It is worth your while to track down, as the flavor is utterly unique. If you take bite of the raw leaf, it is resinous (like rosemary), citrusy, herbal and vegetal all at once, with maybe a hint of gasoline! Diana Kennedy and Rick Bayless both say there is no substitute for it, and I have to agree.
Cooked quickly, like in the scrambled eggs above, the fresh flavors mellow to something palatable and exciting. But throw a handful into slowly cooked black or refried pinto beans, and you get an inexplicable, almost meaty flavor. People will tell you they are the best beans they have ever tasted, but they won't be able to say why. And as a bonus, it is thought to be a carminative, reducing the wind-inducing nature of said legumes.
Your best bet for finding epazote in the US is to visit a Mexican grocery and ask. There is a good chance they might have small packages tucked away in a refrigerator. It is perfectly fine to use when quite wilted, it just shouldn't be turning black or moldy. It apparently is a common weed in North America, so if you know what to look for, it might be free or very easy to grow. I haven't tried the dried version, but it is hard to imagine it would be very good.
I was going to write you out a recipe for scrambled eggs with epazote, but that hardly seems necessary. You know how to scramble eggs. For every two eggs, just beat in maybe a tablespoon of chopped epazote leaf. So much the better if you have leftover roasted poblano strips (rajas) from the Achiote-rubbed Butternut Squash Tacos – throw in a hearty handful of them too. Serve with steaming-hot corn tortillas, salsa or hot sauce, and cotija cheese if you have it.