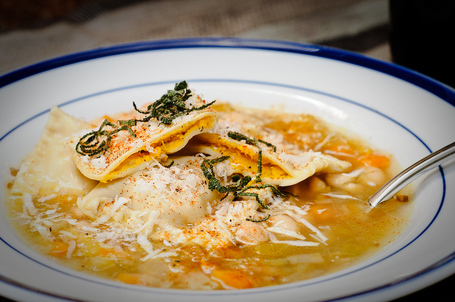 Pumpkin ravioli with a simple vegetable broth and white beans
I made these pumpkin-filled ravioli after reading Paul Bertolli's astounding Cooking By Hand (which I reviewed last week). I made so many that I ended up freezing half and eating them three times. The first time, we ate them with a simple brown butter sauce and crispy sage leaves. Then last night we had them again, over a simple, rustic broth with caramelized leeks, carrots, celery and white beans. Finally today, I had the last few with brown butter again, but this time with big doses of smoked paprika and black pepper. Any way you go, there is a lot to like here.
The pumpkin filling isn't from Cooking by Hand, I made that up myself. I'm not going to write down the recipe for making the pasta itself, because to do it justice would require a whole photo tutorial, far beyond my Sunday ambition. If you aren't familiar with the technique, here is a very good five minute video at Chow, though of course it doesn't go into anything like the subtleties and refinement that Bertolli will teach you. One tip: for filled pasta like ravioli, it is a good idea to make the dough slightly wetter than normal so it is easier to seal reliably.
If you end up with extra filling, you can spread it in a shallow baking dish, top with a bit of cheese and bake at 350 to make a nice gratin.
I always scrub and save the rinds of parmesan in the freezer, because they make a delicious addition to this kind of soup. You can definitely make this without the rind, but it adds a nice layer of flavor.
Pumpkin Ravioli Filling
Vegetarian, not vegan; filling is gluten-free but ravioli wouldn't be
Serves at least 4
1 sugar pumpkin, about 3 pounds, halved, seeds and pulp removed
4 tablespoons unsalted butter
1 small white onion, finely diced
3 cloves garlic, minced
1/4 teaspoon chili flakes
3 leaves fresh sage, chiffonade or 1 teaspoon dried
1/2 cup heavy cream
1/2 cup grated parmesan or romano cheese
1/4 teaspoon freshly grated nutmeg
2 eggs, beaten
salt to taste
optional: a bit of cinnamon, clove, or smoked paprika
Rub the pumpkin with a bit of butter or oil and roast the pumpkin on a cookie sheet at 400 degrees until easily pierced with a fork. If you like, you can roast the salted pumpkin seeds at the same time. Cooks treat (or you can share, if you are a better person than me.)
In a large saute pan, melt the butter over medium-high heat. Saute the onion, garlic, chili flakes and sage and 2 teaspoons of salt until the onion is beginning to brown. Scoop the pumpkin out the skin with a large spoon, right into the saute pan. Smash everything together and add the cream, cheese and nutmeg. Reduce heat to medium. Add 2 teaspoons of salt.
Keep breaking everything up until you have a fairly uniform, thick filling. Taste and adjust seasoning. This is meant to be rustic, so we aren't looking for a perfectly smooth result. If you'd prefer smooth, you can run it through a food mill. Cool a bit and stir in the eggs.
Fill and boil ravioli according to your preference. Serve in a shallow bowl, optionally over the broth and beans below. Optional garnishes: julienned sage (fried if you like), smoked paprika, black pepper, parmesan or romano.
Simple Broth and Beans
Vegetarian and gluten-free; vegan if you omit the cheese
3 large leeks, white parts only, cleaned and sliced thin
4 tablespoons olive oil
2 medium carrots, fine dice
3 ribs celery, fine dice
3 cloves garlic, minced (or more to taste)
2 bay leaves
optional: white wine or vermouth
1 small can cannelini beans or other white beans
optional: parmesan rind (scrub save these in the freezer, they are great in soup)
optional: 2 diced plum tomatoes or a small can of diced or whole tomatoes
salt and pepper to taste
In a soup pot, saute the leeks in olive oil over medium-high heat until quite caramelized, stirring occasionally.
Add the carrots, celery, garlic and bay leaves and saute until all vegetables are tender, scraping the bottom of the pot to get the brown bits. The more browning you get here, the more flavor your soup will develop.
Optionally, deglaze the pan with a cup of white wine or vermouth.
Add enough water to cover the vegetables by an inch. Add the beans. Add the parmesan rind and tomatoes if using. Add 1 tablespoon of salt to get started.
Simmer for at least 1/2 hour, then taste and adjust seasoning.