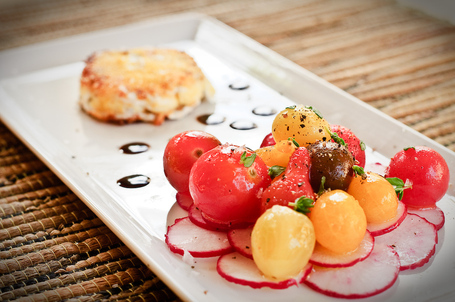 Peeled cherry tomatoes are the star of this show
Ever since I read Shuna's post about peeling cherry tomatoes, the idea has been lodged in my mind, like a song you just have to sing to forget. Ok, specifically, it was this line:
"Tomato skin is like pantyhose. Sheer, almost transparent, and yet truly in the way of what you really want."
It takes a certain amount of talent to make cherry tomatoes sound ribald! But she's absolutely right. The effort is totally worth it and not really that hard for small quantities. The technique Shuna explains works beautifully – small X in the bottom with a very sharp knife, dip for 5 seconds in boiling water, ice bath, peel.
The difference really is amazing. Tomato is skin is notoriously tough, which is why most folks use a serrated knife to saw through it, rather than the cleaving motion of a straight edge. A plain knife has to be a scalpel to do a good job, and it will get dull in no time.
Your mouth is in the same predicament. By the time your teeth apply enough blunt force to burst the fruit, you are confronted with all juice and you don't really experience that tender flesh. (Is it getting warm in here?)
For my first try at a dish highlighting these little beauties, I warmed them in my favorite fruity olive oil (Frantoia), tossed with thyme leaves, Maldon (aka the world's greatest salt) and pepper, and served them on a bed of thinly sliced radishes. They shared the plate with a simple pan-fried goat cheese, reminiscent of a dish we used to make at Cafe Flora. For this simplified version, I just flattened the cheese into a patty, pressed it in fine cornmeal, and pan-fried on both sides until golden brown. A few drops of precious balsamico tradizionale and let's eat.
If you are willing to go outside the locavore zone, the traveling heirloom cherry tomatoes are quite decent – much better than their full size cousins though of course nothing like what you'll get at the farmer's market in the fullness of the season. Which in Seattle is about a week and a half, so you'll have to forgive me.
I thought this dish worked out well, but there are lots of other ways to play. The peeled tomatoes would be amazing tossed with toasted cubes of rustic bread, or with fresh mozzarella (better yet, burrata). Or garnishing a chilled tomato soup. Or with polenta. What about in a tart, is that overkill? Tomatoes and fresh grapes don't normally go together, but if you peeled them both, is there some way they could hang out? Or or or….