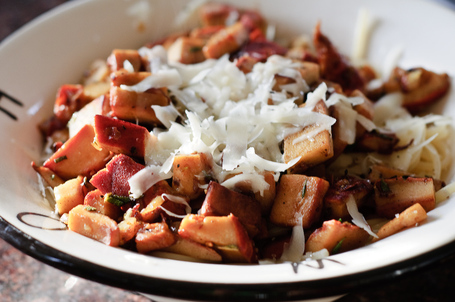 Spaghetti with lobster mushroom
I found this enormous lobster mushroom at our neighborhood co-op last week. You can see it in the picture at the bottom, next to my 8" chefs knife. It had "ears" but they broke off. The whole thing weighed just over a pound! That's a big parasitic ascomycete. A say what? Well it turns out lobster mushrooms aren't really mushrooms (nor are they lobsters). They are a fungus that grows on a host mushroom, turning them red and rendering the original mushroom unidentifiable. Yum, right?!?
Well, it turns out yes. Yum. My first thought of course was to do something that played on the idea of it being lobster like. But when I fried a test piece, sliced thin and well browned, it was distinctly gamey. I'd like to do a plate with a big lobster mushroom "steak" with possibly a huckleberry chutney that plays off the forest gameyness.
But pressed for time for a quick dinner, I ended up dicing the whole thing, sauteeing it with garlic and thyme and lots of butter, and serving it with spaghetti. The pan was a bit crowded so instead of browning, it developed a softer, sweeter flavor, so I'll give you both options below. You could do something similar with other varieties of wild mushroom, or even a mixture.
Lobster Mushroom Spaghetti
Serves 4
Vegetarian; vegan if you omit cheese and use oil instead of butter
1 lb. lobster mushroom, cleaned well and cut into 1/2" dice
1 lb. spaghetti
2 cloves garlic, minced
1.5 teaspoons fresh thyme leaves, or 1 t. dried
either 4 T. butter or 4 T. vegetable oil, see below
juice of 1/2 lemon
asiago cheese or parmigiano reggiano
Heat at least 1 gallon of water to a boil with 2 tablespoons of salt.
Option 1: heat a skillet over medium-high heat and melt the butter. Add the garlic, saute for a few seconds, then add the mushroom and some salt and saute for about 10 minutes until tender.
Option 2: heat a skillet over high heat and the oil. Add the garlic and saute for a few seconds. Working in two batches, fry the mushroom with some salt, and without stirring very much so it really browns and caramelizes on some surfaces.
For either option, add the thyme leaves towards the end of cooking.
Boil the spaghetti according to the package directions, being sure to stop at al dente. Drain and toss with a bit of butter or olive oil. Divide among 4 bowls. Add the lemon juice to the mushroom mixture. Taste and add salt if needed. Top with the mushrooms and cheese.