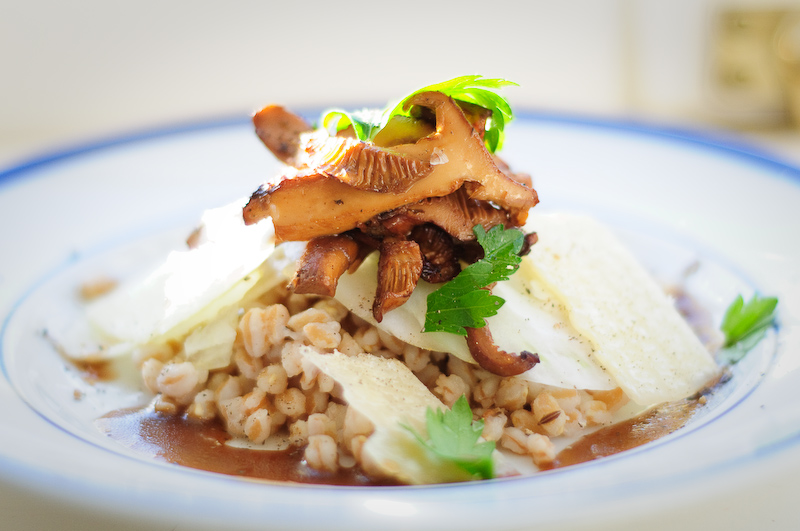 Farro salad with chanterelles, fennel, apples and parmesan
This is my second take on chanterelles and farro. The first one was a hot entree, with sauteed apples. Today's variation is a salad, with shaved apples, fennel, and parmesan. The first dish used an apple "balsamic" vinegar to make an emulsified butter sauce. For the salad, I used the same vinegar to make a vinaigrette.
It was kind of fun to spin the same ingredients in two ways that were closely related, but that would fill different roles in a meal. This salad could either lead off a dinner, or just as easily be a light lunch by itself.
Also, it has been on my mind to use more whole grains. I think they work best when you don't just try to use them as a substitute for refined starches. Whole grains tend to have a nuttier, heartier and chewier aspect than their white counterparts. If you take that character into account when pairing them with other ingredients, they can be stars on their own, not apologetic replacements when on a health kick. These two dishes are a good example: they would be unappealing with, say, white rice instead of the farro.
Farro Salad With Chanterelles, Fennel and Apples
Serves 4
Vegetarian; vegan if you omit the parmesan; not gluten-free
1 cups farro (whole or semi-pearled)
2.5 cups water
1 teaspoon Kosher salt
5 tablespoons extra virgin olive oil
2 generous handfuls chanterelle mushrooms, cleaned, dried, and quartered if large
juice of 1 lemon
1 apple (Kings are nice), peeled and shaved on mandoline or sliced as thin as possible, tossed immediately with the lemon juice to prevent browning
1 bulb fennel, trimmed and shaved on mandoline or sliced as thin as possible (round bulbs are tastier than flat ones)
16 thinly shaved slices of parmesan (parmigiano reggiano)
2 tablespoons Acetoria apple vinegar (or 2 tablespoons apple cider vinegar and 2 teaspoons sugar)
fresh parsley leaves
sea salt (Maldon (aka the world's greatest salt)!)
Rinse and boil the farro according to package directions. If no directions, bring to a simmer in a covered pot with the water and Kosher salt, then reduce to a simmer and cook about 45 minutes until tender. If the farro is semi-pearled, it may cook a lot faster than that. Don't let it get mushy, we want a bit of a bite left. Cool to room temperature
Heat a skillet on medium high flame. Add 1 tablespoon of the olive oil. Saute the mushrooms, turning occasionally until nicely browned and tender. Season with sea salt and remove from the pan.
Season the apple vinegar with salt and pepper. Drizzle in the remaining 1/4 cup of olive oil, whisking continuously to emulsify. Taste and adjust seasonings.
To serve, mound 1/2 cup of farro on each plate. Top with a handful of the sliced apples and fennel. Drizzle on some of the dressing. Top with 4 slices of parmesan, 1/4 of the chanterelles, and some parsley. Drizzle remaining dressing around the plate, and hit with a few grains of a finishing salt and fresh ground black pepper.