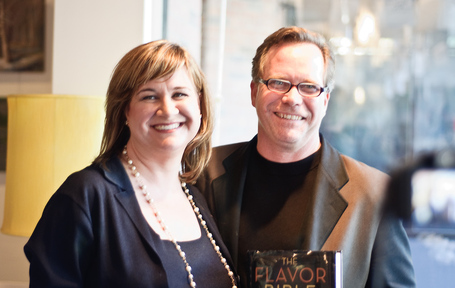 Karen Page and Andrew Dornenburg, authors of The Flavor Bible
Thanks to Keren (the Frantic Foodie), I recently had the opportunity to join a little blogger's coffee klatsch with Karen Page and Andrew Dornenburg, authors of the indispensable tomes Culinary Artistry
, What to Drink with What You Eat
, and most recently, The Flavor Bible
. They were in Seattle to promote their new book and catch up on the ever-changing food landscape in our fair city.
If you look on any professional chef's bookshelf, chances are that Page and Dornenburg's books are going to be there, battered and bruised, coffee stained and taped together at the spine. Why this place of pride? Because these books contain the most useful culinary lists ever assembled: lists of traditional and modern flavor pairings and techniques to use with every imaginable foodstuff.
Imagine you just went to the farmer's market and couldn't resist a big bunch of heirloom Thumbelina carrots. You slice a few in your salad, sure; but the next day, maybe you'd like to cook with them. You could go look in the index of all of your cookbooks for carrot recipes, or search the web for ideas. Or you could open The Flavor Bible to page 95, and jog your memory and imagination by reading that carrots have a special affinity for butter, ginger, lemon & orange juice, maple syrup, parsley and brown sugar. Their secondary suggestions include chervil, chile peppers, cinnamon, cream, and … you get the idea.
Along with the flavor pairings, you get suggested techniques (boil, braise, grill, roast, …), botanical relatives (fennel, celery, …), multi-way groupings (carrot + pistachios + tarragon!), dish titles from great chefs (Roasted Carrots, Minted Pea Puree and Moscato Vinegar from Cory Schreiber of Wildwood in Portland, OR) and sometimes thought provoking quotes from other chefs.
These aren't just Karen and Andrew's personal opinions, though Andrew was a professional chef before he became an author. They dine out constantly and dissect every good thing they eat. They've collected thousands of menus. And most importantly, they have built personal and professional relationships with many of the finest chefs in the world. They filter and gather the information from all of these sources, looking for combinations that many cooks are using to confirm compatibility.
If you are the kind of cook that feels reasonably confident in your skills and just needs a bit of inspiration, those lists will light a fire under you. I'd be right in the kitchen, pan-roasting those carrots, glazing them with a bit of orange juice and brown sugar and finishing with minced flat leaf parsley and Maldon (aka the world's greatest salt) . Do you really need a recipe for that?
You can use the same lists at a higher level to plan accompaniments and even whole menus. For example, if I made that carrot dish, then maybe I'd look up the oranges and remind myself that they pair well with rosemary, mint and chocolate. So I might serve the carrots with rosemary-infused lentils, or a yogurt sauce with mint, or maybe just plan a chocolate dessert for the end of the meal.
Do you see how you can keep playing this game, and build out a whole coherent dinner? And that doesn't even scratch the surface, taking into account all of their fine suggestions about planning around seasonality, temperature, and balancing the "weight" and "volume" of each ingredient. This kind of thinking, more than any one technique, has the potential to make an ordinary meal special, and a special meal extraordinary.
On a personal level, it was fantastic to have a chance to meet Karen & Andrew. It is inspirational to see a married couple that can work so closely and happily together. Their tale of perserverance, sending proposals for their first book to dozens of publishers and actually financing their own press tour for the tiny initial printing is a great reminder that magic happens when you fully commit to your dreams.
You can follow their blog at BecomingAChef.com, and here are all of their books on Amazon. I can't recommend them enough.