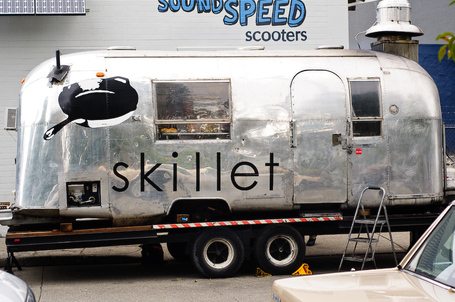 Skillet Street Food in Seattle, WA
Skillet is easily the most talked about mobile restaurant in America. In many other countries, street food is a highly developed art form, but in America it has been left mainly to "roach coaches", hot dog stands, and (often fantastic) taco trucks. CIA-trained chef Josh Henderson and foodservice veteran Danny Sizemore changed all that when they started roaming the streets of Seattle in their vintage Airstream trailer, cranking out beautifully prepared, delicious, seasonal meals.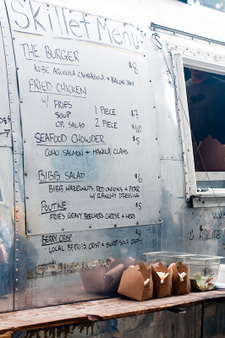 I find it incredibly inspirational that there are so many new places to eat that question the very idea of a restaurant. Skillet goes right to the heart of that investigation. To serve top notch food, do you have to have waiters? Tablecloths? A printed menu? Nope. Not even a fixed base of operations.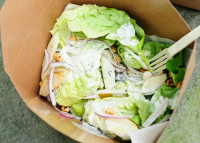 (Hmm, which makes me think someone should do the opposite and build a white tablecloth restaurant with captains and sommeliers and valet parking, charge $100+ per person, and serve McDonald's burgers and King Dons for dessert).
But can a vegetarian eat at Skillet? Well I knew it might not be easy. They are best known for Kobe beef burgers and poutine (a French-Canadian specialty involving french fries, cheese curds, and gravy). Still, your intrepid Herbivoracious correspondent braved 60 degree weather and partly cloudy skies to answer this all-important question.
I settled on the Bibb salad and poutine-hold-the-gravy. I shoulda got the berry crisp too in the interest of research. The salad was a huge portion of tender lettuce leaves tossed with crisp pears, red onions, toasted hazelnuts and a dressing describe as "ranchy" – meaning sour cream / buttermilk / fresh herbs. Yum. They even took the time to rub the skins off of the hazelnuts, which is a fine dining touch you would never expect from street food.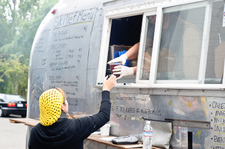 Granted, poutine without the gravy ain't really poutine. Cry me a frickin' river. Super crisp, deep brown, well salted, wicked hot fries. Soft, cheddary cheese curds relaxing into the fries. A sprinkle of fresh dill and parsley on top. It might not be authentic, but it was ridiculously delicious. I'd even go so far as to say it is probably better this way because the gravy doesn't sog up the taters.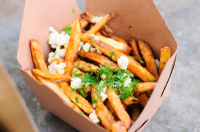 So yes, a vegetarian can eat very well at Skillet. I respect the fact that they didn't just offer a crappy veggie burger patty as an option on their Kobe beef burger. Most veggie patties suck, so that would just compromise their whole package. Hey J & D – here's the vegetarian item you should make: sabich – the Israeli eggplant sandwich phenomenon. I will then be lined up at your window every morning at 11:00 AM promptly.
Check their website for the location calendar, current menu, private event info and more.