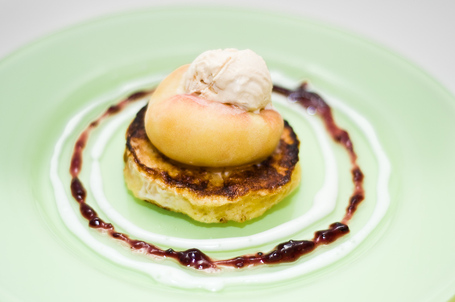 "Rings of Saturn" – Saturn peach with French Toast
I recently learned that donut peaches and Saturn peaches are the same thing. I picked up some beautiful specimens at Central Market the other day, perfectly ripe and sweet. They lack the acid backbone of most other varieties. Pure, addictive, three-bite candy.
Of course those names got me thinking. I really wanted to do a homemade donut, but decided to go for the Saturn pun first. Rings.
I opted for a challah French toast base, buttermilk and marionberry sauces, and a scoop of dulce de leche ice cream. Challah makes phenomenal French toast. Probably a tie with brioche. The bites of cold ice cream, tender room temperature peach, and warm French toast were pretty incredible.
The marionberry sauce was subtly spiked with rosewater, black pepper, and cardamom, which added a mysterious element. In retrospect the sauces would have looked more Saturnesque if I had brushed them in wide circles on the plate. Maybe a few crunchy space rocks would have worked too. Praline pecans?
I didn't actually measure anything for this recipe, but I'll give you a rough guide in case you want to make something similar. If you can't find a Saturn peach, you could use half of a regular peach or nectarine, cut in half along the equator. You only need to peel the peach only if the skin is kind of tough. I've offered other suggested substitutions in the body of the recipe.
Rings Of Saturn On Challah French Toast
Serves 4
Vegetarian; not vegan or gluten-free
For the buttermilk sauce:
This sauce calls for xanthan gum. If you don't have it, you can do without, the sauce will just be a bit runny. You could also use thick Greek yogurt instead of buttermilk.
1 cup buttermilk
1 tablespoon sugar
1/8 teaspoon salt
xanthan gum – start with with 1/8 teaspoon
Put all ingredients in a mini food processor or blender. Whir for awhile then check consistency. You want something thick enough to stand up on a plate a bit, but not gelatinous. If this isn't thick enough, add more xanthan gum, a pinch or two at a time. This will make more than you need, it just isn't convenient to work with the gum in smaller quantities.
For the marionberry sauce:
1/2 cup marionberry jam (or other jam of your choice)
1 teaspoon rosewater (or orange flower water, or omit)
1 grind black pepper
1 pinch ground cardamom
Whisk all ingredients, then force through a sieve to remove lumps and seeds.
For the French toast:
2 eggs
a couple good glugs of milk
honey (or agave nectar, or sugar)
pinch of salt
4 thickish slices of challah or brioche, cut into circles bigger than your peaches
butter
Thoroughly whisk the first 4 ingredients in a shallow bowl. Soak the bread well on both sides, brush off excess, and cook over moderately low heat in melted butter, flipping when golden brown. You don't want the heat so high that the outside burns before the inside sets. Keep warm.
To serve:
4 donut peaches, cored to remove pit (with an apple corer or knife)
Haagen-Dazs dulce de leche ice cream (or make your own)
Place one piece of French toast in the center of a plate.
Top with one peach.
Make two concentric rings each of the sauces, either with a squeeze botttle or spoon, or brush the plate.
Top the peach with a scoop of the ice cream and push it down into the cylinder where you removed the pit.