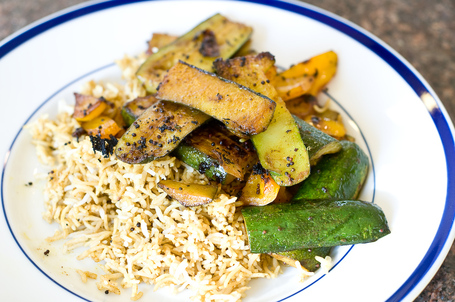 Bangladeshi-Style Fried Zucchini
Jeffrey Alford and Naomi Duguid are one of the greatest cookbook writing teams alive today. Their ability to travel the world and fully engage with the people they meet allows them to bring back incredible stories, photos and recipes.
I've owned Home Baking: The Artful Mix of Flour and Traditions from Around the World
and Seductions of Rice
for awhile now, so when I received Mangoes & Curry Leaves: Culinary Travels Through the Great Subcontinent as a gift, I fully expected another indispensable volume. This one is devoted to the foods of Pakistan, India, Nepal, Bhutan, Bangladesh, Sri Lanka and the Maldives.
When I was younger and traveled a fair amount by myself, I was always a bit cautious. I tended to stay in big cities, and in the best hotel I could afford. Alford and Duguid are willing to risk a lot more discomfort, and put themselves in positions to connect.
For example, I was touched by Naomi's story of sharing a hut with a Sherpa mother and newborn baby, 12,000 feet above sea-level, and learning how Grandma took care of the child while mom recovered. Or how about Jeffrey's reminisces about his friend Sam, a local who he joined for nightly beers and hoppers at a hotel bar in Kandy, Sri Lanka. There are not the stories of some food celebrity who parachutes in for a photo-op with a gnarl-handed fishmonger and is back at Momofuku by nap time.
The thread that runs through all of their books is that the recipes are what people really eat. Simple and unfussy, but full of flavor and character. They don't obsess about a false authenticity, realizing that even the simplest dish varies from family to family, but neither do they dumb down the food. Substitutions are offered when an ingredient might be hard to find away from its native lands.
This Bangladeshi fried zucchini recipe typifies their approach. The original is made with a gourd known as potol, which you probably can't get your hands on. So they recommend zucchini instead, but keep the cooking technique the same. In this case it called for lots of oil, which ends up highly flavored. You can reuse it as the base of another stir-fry.
I chose to make it with much less oil, which no doubt led to a slightly less rich result, but it was better suited for a healthy weeknight supper. I'll give you my variation below but feel free to bump it up to the full 2 tablespoons of mustard oil and 2 tablespoons of vegetable oil, and reduce the mustard seeds to 1/4 teaspoon.
The result was a big hit. We ate it with some tamarind-flavored rice and jarred lime pickle, and demolished every bit. Add a dal, flatbread and some raita and/or chutneys and you'd have a real feast.
Here's an Amazon link for all of Alford and Duguid's books. I can't recommend them highly enough.
Bangla-Flavored Fried Zucchini
Adapted From Mangoes & Curry Leaves: Culinary Travels Through the Great Subcontinent
Serves 4
Vegetarian, vegan, and gluten-free
5 small zucchini (or 2-3 longer ones, cut into about 5 inch lengths)
1 tablespoon vegetable oil
1/4 teaspoon turmeric
1 teaspoon black mustard seeds
1/4 teaspoon cayenne pepper
1 teaspoon sugar
1/2 teaspoon salt or to taste
Slice the zucchini lengthwise into about 1/2″ thick slabs (see photo).
Heat the oil in a large wok or cast iron skillet over a medium-high flame. Add the spices and sugar and fry for about 10 seconds until the mustard seeds start to pop.
Quickly add the zucchini and toss to coat with the oil and spices. Lower heat a bit, and continue to turn occasionally until tender but not mushy, 3-5 minutes.
Remove from the skillet, season with salt to taste and serve.