Madeleine cookies – or really, teacakes
My goal for this post is to write about madeleines without mentioning Proust (again).
Mini-me is obsessed with those little packets of three madeleines sold at the Starbucks' register, so I asked if she'd like to make them at home some day. Of course the answer was yes. Remembering that Heidi of 101cookbooks had run a madeleine recipe over a year ago that looked intriguing, we opted to follow hers rather than Joy of Cooking (or more research).
Looking now, I see the recipes are dramatically different! Joy calls for no lemon zest(!), double the flour to butter ratio(!), uses pastry flour instead of all-purpose, and uses baking powder where Heidi uses none. I guess I'll have to try this version next for comparison. I'm pretty sure the pastry flour at least is a good idea, for a more tender crumb.
They definitely turned out great, it was all we could do to not scarf the whole batch the moment they cooled off. Just the right amount of lemon flavor, and a tender/chewy bite.
Sarina pointed out that they are more like a cake than a cookie, and in fact Joy refers to them as a teacake. The beating of the sugar & eggs is very much like a sponge cake.
Although madeleines seem like a good thing to be a purist about, I could imagine using lime, grapefruit or orange zest instead. You won't catch me making Thai-spiced madeleines with coconut foam though!
Kiddo really enjoyed measuring ingredients, watching the mixer, folding the batter together, and filling the special pan. We brought half the batch over to the neighbors and that was fun too. I think madeleines will be in our regular repertoire because they are really easy but when you offer them to guests or give them as gifts, they seem kinda special!
Here are Amazon links for basic
pans if you want to try your hand at them. I probably wouldn't buy non-stick or silicone because they likely won't brown as well. Just use a good brand of pan spray or butter, they come out easily.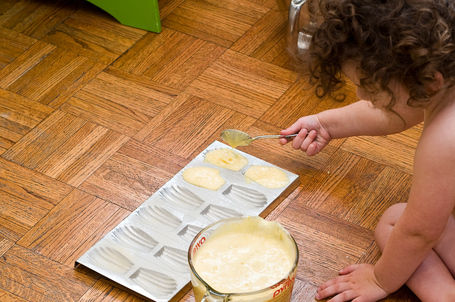 Munchkin filling the molds